Review by Brett Pike

Professionalism is about being arriving precisely when you mean to, with everything you need. Especially rocking to right venue, that would make all the difference. Not rocking up to the Crown & Anchor, wondering where the fuck everyone is, realizing you're on the other side of town, and consequently running the length of Grenfell/Currie St in fashionable not functional skinny jeans and second hand Vans.

All was not lost! I arrived to the Ed Castle right on time, greeted by a beaming old friend in bassist Laurence May and lead singer Max Garcia-Underwood who were set to take us back through the years of awkward teenage love and TV shows about Orange County all in one night. It was The Independent Project presents, The Noughties Project.
Usually beset for encores and bands without enough original material in the repertoire, covers are a great way with connecting old songs and new faces.
And kicking things off, fifteen year old Brett was overjoyed to hear the piano, THAT piano intro we all once loved (and some of us still to this day). Setting the scene on the keys, Jack Lonsdale brought us to the early 00s with the intro to
Eminem's
Lose Yourself
before
Max Garcia-Underwood
took control of the mic.
On stage banter aplenty,
The Noughties Project
had plenty of the crowd on their feet dancing up a storm to throwback jams such as
RHCP's
By The Way
,
The White Stripes
Seven Nation Army
, a complete overlapping mashup of
Blink-182
and
Avril Lavinge's
All The Small Things / Sk8er Boi
and including one of the greatest jams
Ms. Jackson
by
Outkast
complete with
Max
as
Andre 3000
,
Laurence
as
Big Boi
and oooohs! provided by
Chris Neale
on drums.
Not complete with international covers, The Independent Project showed their versatility with renditions of
The Nosebleed Section
and
Baby, I've Got You On My Mind
(by
Hilltop Hoods
and
Powderfinger
respectively) before closing the night out with a triple-tiered
Coldplay
cake of
Yellow
into
Clocks
into
Fix You
where the layered vocals of
Garcia-Underwood
,
May
and
Lonsdale
synced elegantly in the closing chorus.
By the time 11pm had rolled around, the boys were finished and closing up shop before a rambunctious crowd demanded just one song, perhaps not the greatest and best song in the world, but a great
Tribute
nonetheless.
Word spreads quickly when you put on a great show and it was a delight to see the third and final show of
The Noughties Projects
, held last Saturday night, had sold out! Keep in touch with the lads of
The Independent Project
over on their
Facebook
for all future news.
Powered by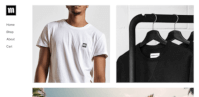 Create your own unique website with customizable templates.