Review by Brett Pike

Coming together in early high school bands and as mates, The New Yorks were once known to the Adelaide scene as the Kindergarten Kings. Shaking off their early name, now slightly more professional and slightly less awkward, the band is embarking on a multiple date, multiple state tour to support their recently polished single, New Age.
Recorded with Michael Carver and Harry Townsend at Mixmaster Studios, New Age becomes the first single off of their upcoming EP and their first release since drummer Sam Telegramma joined the band.

New Age features a heavy and beautiful blend of Britpop and East Coast indie rock with its speedy riffs and hooks, much akin to a combination of The Babies and Circa Waves. The in-stereo sounding production of the track gives vocalist Vinnie Barbaro a rough yet polished delivery and pulls you into the track.

The single itself represents a new dawn for the band, taking themselves and their music more seriously as they begin to build further, including last years important scoop of supporting San Cisco at the Fat Controller launch night.

​

Powered by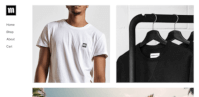 Create your own unique website with customizable templates.