Words by Brett Pike
There are a couple things that define summer for me. Melting on the pavement every time I walk outside. Burning my hands on the metal clip on seatbelts. Cutting my lips on Zooper Doopers. And grooving along to some sweet infectious beats. Courtesy of
World Wild
, we have ourselves a new tune to roll the windows down and cruise along too.
If this is your first time experiencing
World Wild
, I might suggest heading straight over to their
soundcloud
and checking out last years debut record
Caribbean Gold
, undoubtedly one of my favourite all time releases.
As the words describe,
Body Talk
is a feel good, infectious track you want playing when you see your sweet love across the dancefloor and get down to the business of getting down. Listening to that snare snap in your headphones, synth waves take me back to long walks along
Venice Beach
(replace with any tropical beach if you haven't been there) and hot summer nights under fairy lights and palm trees.
In his music, Jarrad Lee Jackson delivers the warm and fuzzies, speads good vibes and genuinely makes you feel great about anything and everything going on in this planet. There is a lot going down across the globe, but there is also a lot of love. And we feel that every time we listen to World Wild.
Powered by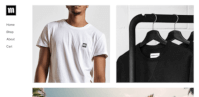 Create your own unique website with customizable templates.