Editorial by Brett Pike

Every week, every day, bands are getting together in backyard sheds, garages, rehearsal spaces and studios writing and sometimes even jamming out and recording new tracks. This fine Wednesday afternoon we bring you a couple of tunes we've been and will continue to froff over this month.
There's Something About Mary Jane by The Skategoats
Fed by a time when skater punk bands were cool and filled the sound tracks of our childhood games like Tony Hawks Pro Skater, the debut single by Mount Gambier four-piece The Skategoats is a throwback to that bygone era. With it's rolling bass lines and crisp snare hits, it's an excellent debut from the band who look to support the release with as many shows as possibles.
Sleeping With Venus by Devil's Crossroad
Straight off of their upcoming EP, set to launch next weekend at the Crown & Anchor, Sleeping With Venus is an easy going rock track with elements of psychedelica and blues all rolled in together. Add in a tasty little guitar solo and the song just continues to build and grow on you with every play.
Bindies by DRUID FLUIDS
​Like rolling waves across your entire body, warming you up and cooling you down at the same time, DRUID FLUIDS aren't a band you just sit around and listen to, they're a band you have to experience. The mind melting intro, dirty riffs and vocals whipping around like clouds, you just need to let yourself go and dive in.
Final Taste of Bliss by For Millennia
This years first release by prog/metal rockers For Millennia, it's a fucking great way to kick twenty-sixteen. A bit of an epic, clocking in at over seven minutes, the tracks builds and breaks, builds back up and then break downs again in the most beautiful of ways. Vocalist Henk Plaggemars keeps nailing those high notes and holding them, piercing through the headphones. It's a big tick from us.
Lights Out by Cabin Cults
​Released a couple of weeks ago, this up-tempo synth rock jam has got us seeing stars coming for the band. With an upcoming performance at the Clipsal 500, Cabin Cults are certainly one band needed to kick open a party get your ass moving out on the d-floor. Expect to hear at every Bakehouse Party coming near you.
Powered by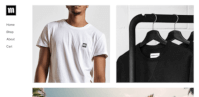 Create your own unique website with customizable templates.