Live Review by Meg Tucker
Friday
night
Jive
was spooky, decked out with cobwebs, ghouls and bowls of candy, with captain Jack Sparrow on the deck for
Young Offenders
Halloween party. The atmosphere was buzzing with all the band members getting into the spirit. There was a mummy, nuns, Luigi, a mad hatter, and V For Vendetta anarchists, Finn from Adventure Time-complete with a sword. But the best costume in my eyes was the
Slick Arnold
lads in Crayola crayon suits, enthusiastically jumping up and down shaking their pencil topper hats to their hearts content, it was priceless.
I managed to catch the end of
Greenthief
the first thought I had was "It must be boiling in that Buzz Lightyear suit", regardless the band pushed through with a tight set, after hearing
Beneath Blue Skies
a psychedelic gutsy tune, I wish I had arrived earlier and caught their whole set.
Brisbane act
Release The Hounds
where next on the bill and too harsh for my liking. After hearing their explanation to the crowd about their run in with national radio not being able to play their song because it was too violent, I was wary about what was to come. A few songs into their set I stepped outside to get some air, although I couldn't get into their music I could appreciate their tenacity to continue with their lyrics and sound.
At last, the much-loved
Young Offenders
came out, decked to the nines with a new look lineup. Their set included top tunes Boys Are Out and Talk Of The Town, amping up the passionate fans enough to get fans crowd surfing in the little mosh and even a little bit of stage invading.
As good hosts, they thanked everyone for coming out and offered out candy from the front row. The best thing about
YO
is the varied tracks. It's not all about girls and getting money, their set was a cauldron mix of feel good tunes and darker ballads, easy sing along and thought-provoking choruses.
My personal favourite
Broken Record
an ode to university
"If you don't want to go don't"
, a song that everyone can relate to about those days where nothing seems to go right, and one about gaining fame at any costs. There's more to the boys of
Young Offenders
than first glance and I left the venue with a new love for punk.
They showed me there was more to the Adelaide scene, I will leave you with the words from
Slick Arnold
that sums up the night perfectly.
"Half the price of Reds. A billion times better quality."
Powered by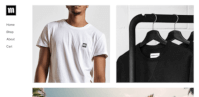 Create your own unique website with customizable templates.