Live Review by Meg Tucker
Saturday
night had me heading out to
Ancient World
which is an underground venue (literally and metaphorically) down a dark alley and into a basement, along with a intimate crowd, to watch a lineup of local talent. There was no better way to start the weekend and to end a horrendous work day.
Opening the show was Animal Shadows AKA Tom Gaffney. A charming young lad and a jack of all trades producer, journalist and event coordinator who had the whole room in a trance like state playing his unique mix of ambient chill cross indie pop. With a solid mix of originals and a few covers Tom effortlessly melded in everything from rap to electronica. Even working in an amazing rework of Hopium Dreamers. After getting a little tongue tied, he ended with a mesmerising rendition of Flumes iconic song Holdin On, like the corny saying goes "when words fail music speaks".
Dead End Friends set up and worked like a well oiled machine. You could tell by their ease on stage, even after technical issues of electric charged microphones (fixed shortly after by Scott Palin on vocals taking off shoes -Yeah science!, ) that they have been around on the scene for awhile. They have supported the likes of Bad//Dreems, Step-Panther and Horror My Friend but weren't at all phased by the small crowd, playing as if they were in a stadium, bright loud and in good spirits.
Allume pronounced ahh-loom is mysterious theres not much information about them anywhere - but i can tell you they were bloody amazing and Elena Nees, despite her nerves, as it was her first time infront of a crowd, can play the bass guitar like a bad ass (she also has exquisite fashion sense). Check out Hands with prodigy Valleys which has been getting triple j air time;
The night closed off with
World Wild
, which got everyone up standing having a good old boogie along to the 80's surf pop goodness influenced by
The Beasties Boys
and
Van Halen
. Jarrad writes, records and produces everything you hear, which makes it even more special. It's quite a sight to see just a lone guy producing such a huge sound - he had the crowd eating out of his hands. My personal favourite
Coast to Coast
described perfectly by
Jarrad
as "
Cheese on toast melted by the coastal Californian sun
".
Jarrad aka
World Wild
is set to release his debut full length
Caribbean Gold
on April 10 and you can check that out through the
World Wild webpage
.
Powered by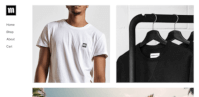 Create your own unique website with customizable templates.