By Ian Hooper

On a Saturday evening that hung with a cloud of prestige (pfft - Rolling Stones...more like Strolling Bones! Ammirite?) Adelaide 7-oh-wait-8-piece West Thebarton Brothel Party showed the crowd what it is to rock, roll, and bowl out some raucous youthful fun. And Battlehounds gave us what can only be described as absolutely rockin'. Welcome to the Mirador spectacular - giving you all the shoulder bumps, hoarse throats, and tinnies you desire.
As what has become a nice throwback to the times of old, the Exeter once again transformed its beer garden into the sweaty box that we all love. Complete with hanging plants - which I saw Andrew Marshall's giraffe-like body able to actually reach - and stage constructed from the tables and chairs which usually occupy the space, the late afternoon gig had an air of those DIY backyard gigs a nearing summer will be sure to involve.

And surprisingly the sound was fucking spot on. I was sceptical about how it would all come out but bless ya, Dan V. Big drums and minimal mic jobs gave the sound that straight-from-the-amp deliciousness that could only be matched by sweaty beard juice. Man, there were so many beards.
Battlehounds kicked off with what I can gladly call Rock. From 50 metres away on Rundle Mall, I could feel the driving basslines of Pull The Trigger drag me in and punish my stomach once I actually reached the garden. The gritty riffs and grizzled voice of Alex Rajkowski was reminiscent of the old without being too much of the same old. With catchy melodies and some big choruses, there is much more than Ghost Mountain that these guys are sitting on as big time crowd-pleasers. In saying that, people at this point were quite mellow and a little quiet. Maybe this was because it was about 5pm and people weren't intoxicated enough, maybe energy was being reserved for the main act, or maybe people just weren't familiar and therefore unable to be absorbed with the content. Either way, this was definitely the best I had seen Battlehounds out of the four or so times I have seen them in the last 12 months and their delivery was spot on. Early 2015 will see an EP release and will be something to be at if you are anywhere remotely interested in psych, rock, and desert fuzziness.

With the sun still in the sky, West Thebarton Brothel Party started out with a strong wave of thrashy tunes. Lead singer, Ray Dalfsen, was in fine and perfectly sarcastic form as he coaxed the crowd forward with the simple desire of making Spoz's job harder. By the time that crowd favourites Two Bit Loser was belted out the crowd seemed to liven up, but by no means were the 100+ strong rabble rousers ever a match for the seven angsty boys. If that was the one criticism I would have for the show it would simply be that this band deserves an energetic audience at all times. A gang of sweaty guitarists deserve an army of moist moshers, and no gang in Adelaide is more deserving of this level of fandom.

But before I digress, a point of considerable interest amongst the set. New song, New Girlfriend, showed off one thing this band has yet to really push: their technical ability. Excellent use of the various guitar tones, impactful tempo changes, and a sporadic vocal delivery made this one of the most skilled songs to come out of what is a very talented group. Whether this is a turning point or a glistening moment, none can be quite sure. But the one thing that is certain is West Theb should be piquing the interest of those muso minds that scoff at anything thats just all 4/4.

The crowd was informed after some dead air of the song of the hours arrival. Glenn McGrath hit with force and saw Ray throw himself into the audience and around the venue. If he didn't have a mic I'm sure he would have been bustled out of the joint for rough conduct. The band finished with their previous release, Chemotherapy, wrapping the show up with two of their thematically darker songs. If the link isn't clear, the lyric 'You're fucking my wife' in Glenn McGrath and 'the shadow of the man I used to be' spell out the horrible results of living with cancer.

Ooh Aah on that one.



Ps. Props to this fella for the representation.
Powered by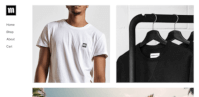 Create your own unique website with customizable templates.