Live Review by Meg Tucker
West Thebarton Brothel Party
have just announced they will be supporting local lads
Bad Dreems
on their
Dogs At Bay
Tour in Adelaide, Sydney and Melbourne throughout September/October make sure you get in early to see 'em do their thing. If the official launch of their self titled EP
on Saturday
is anything to go by you are in for a real treat.
After Young Offenders and Melbourne babes The Pretty Littles kicked off the night, the 7 lads of WTBP piled onto the stage. I admittedly was a bit sceptical as to how they were all going to fit with their kits onto the quaint stage at Jive without looking like they were squished into a sardine tin, but they managed nonetheless. Looking comfortable they opened with their track Billions, giving it their all with high spirits from the get-go. It was infectious.

Spraying beers over the crowd, people in the audience having a crowd surf. Brian balancing the tambourine on his broad brim, smacking it throughout the crowd favourite Misophonia. It was impossible to not have a good time. Smiles were exchanged from band member to member with nods and laugher between tracks sealing the deal.

There's nothing worse than going to see a stagnant band who look like they would rather be anywhere else BUT in front of you.
West Theb
are the opposite just a bunch of friends making music for people who want to listen. That's what makes their sound so special you can tell its what they love and want to be doing.
Two-Bit Loser
one of the more sleeker tracks was a highlight, with the loaded drums filling jive back to front with sound.
Glenn McGrath
was the perfect closer to the night it had the crowd spilling their beers and chanting along, the crew bringing their guitars down to get acqainted with the crowd causing a ruckus, it was the best way to spend a Saturday.
Froth over their new EP above, and get out to catch the guys when they return to the stage with
Baddies
Friday September 25
at
Fowlers Live
.
Powered by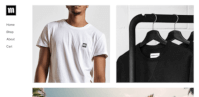 Create your own unique website with customizable templates.