Live Review by Brett Pike

Living the dream is being able to rock up at a gig and order yourself a parmigiana while the bands load in and set up. It seems like forever since the Brisbane six/seven/however many piece band has rolled into town, albeit this time without the duo from DZ Deathrays who have magnificently scored themselves a last minute Splendour In The Grass slot.

Alas Velociraptor is back, with their lovable leader Jeremy Neale and two of our finest bands Sincerely, Grizzly and It's a Hoax on the bill for a Thursday night at the Ed Castle.
The last time I hit the Ed Castle for a Thursday night gig, Canadian outfit Japandroids ripped right the guts and played long and hard through the night as one of the best gigs I have and will ever go to. The similarity with tonight is that once again, Sincerely, Grizzly are back in support with some brand new material.

But first up, It's a Hoax fronted by Kiah Lanagan took the stage just the other side of 9:30 for what was an impressive albeit short set. With their coming of age rock, with splices of jazz and multi-layered guitar which seems to be a bit all over the place at times and at the same time works wonders for their sound. It's a Hoax is like a young adult, thrust into the world and coming to grips the bullshit you get with it all, and still keeping it together and making the most of it all.
I've been waiting for this one for a long time. Not only to see Sincerely, Grizzly back on a stage but the have a couple new tracks for us too including a semi-ballad intro that I'd really love to see again. Without enough time to hear a full rendition of last years' debut LP Halves, the trio played a couple select songs from the release including Catholic Guilt (complete with Josh Calligeros screaming into his guitar for effect and pulling it off), I'm Nucky Thompson, This Is Atlantic City and the perennial closer and epic Kafkaesque. A seriously under-rated band on the national scale, it's no surprise to anyone in Adelaide that even as a support they can still play the set of the night. Gud bois.
It was three years ago the first time Velociraptor came to Adelaide, to play support at Jive with fellow Brisbanites DZ Deathrays and a fairly new to the scene Horror My Friend opening the night. After a long overdue lay-off, they were back in town on their Dollarmite tour fueled by 5am flights and 7/11 coffees.

Playing a mix of older tunes and songs off their most recent self titled record, their brand of party rock was good without bringing that knockout punch. That didn't really bother most of the crowd though, with Velociraptor having built themselves a reputation founded on memories, positive vibes, instagram game and always being appreciative of every individual at their show.

People dancing, people romancing, crowd surfing and singing into their best friends faces, it's the kind of atmosphere you see when everyone is having a good time.

And kudos to the band for keeping their cool after the same random guy decided to become their new lead vocalist three times throughout the show, though the might've just been too hungover to really care.


Powered by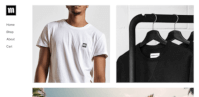 Create your own unique website with customizable templates.