Live Review by Lauren Varo

With school out for summer, there's no better way to lure in new students to your University than hosting a free all ages festival featuring local legendary Adelaide bands and some of the best touring Australian acts. Or at least that was the logic behind The University of Adelaide's Open Night held on campus last Thursday.

Hundreds of school-leavers and university students flocked to the North Terrace party for a night of rock climbing, book stacking, food trucks, five Australian live music acts and free wifi, and with ARIA award winner headlining the event in 2013 the bar was set high.
Local trio SKIES warmed up the crowd for an early evening start, bringing a unique brand of synth-pop to the stage. Their single Flames appeased an albeit small crowd and with nearly 30,000 SoundCloud plays it's easy to hear why. With a new release in the mix, these guys are definitely a band to listen out for in the new year.
After a brief interlude filled by Cats DJs, FLAMINGO hit the stage fresh from a string of shows around the country. The trio cemented their well earned place in the lineup with a set of Chet-esque electronica on tracks like Heavy Steps flustering the feathers of a new flock of FLAMINGO fans. New release Drip Away also featured a special guest appearance from 19-year-old Adelaide vocalist Hunt, who is set to support the band when they venture on their upcoming EP launch this Friday. Closing with a slowed down arrangement of American indie-pop group The Drums' single Money saw the crowd singing along to the anthem of poor uni student life.
Playing third in Open Night's trio of trios was Canberra three-piece SAFIA who, despite a strong suite of sets thus far, stole the show with a stellar string of songs. Opening with high rotation single You Are The One, there's no doubt the band won some new friends as the front row slowly grew. Songs like Listen To Soul, Listen To Blues meant the SAFIA set was an emotional whirlwind full of crowd favorites and diverse influences. On top of catchy electro-indie beats, the soul-filled vocals of front-man Ben Woolner really defines SAFIA's beautifully unique sound on the Australian scene, made no more obvious than through poetic falsetto on the band's cover of James Vincent McMorrow's Cavalier. Paranoia, Ghosts & Other Sounds wound up the set and left most itching for more.
Up next was highly anticipated Tom 'Alldeezy' Gaynor, aka. Adelaide born and bred rapper Allday. But what should have been one of the best sets of Open Night was plagued by sound-system woes as Allday took to the stage accompanied by a stereo 'worse than my Corolla' according to one punter. Unphased or unnoticing, Gaynor powered through the likes of hits Right Now and Claude Monet with barely a moment to breath. Continuing the theme of cover songs, Allday's version of Childish Gambino's 3005 would have been a hit had it been distinguishable over the fuzz of white noise blown out by the speakers. Fortunately the unforgettable opening sample of Flume and Chet Faker's HyperParadise on Allday's remix Like I Does had the crowd back in full swing. Rap fan or not, you have to admire Allday's underdog determination in continuing despite some of the worst tech of the night. Rounding out the performance with Always Know The DJ, Gaynor's RnB vocals proved to be a talent rare to see in the Australian hip-hop scene.
If there ever was a band to bring the party to Open Night, it was Canberra electronic duo Peking Duk. With a hyped up introduction from Adelaide comedian and YouTuber Alex Williamson to the theme of
2001: A Space Odyssey
, it was clear that Open Night was about to get epic. Blending together a mix of party anthems from The Beatles' Lucy In the Sky With Diamonds to Pharrell's Happy, the set was high-energy and purely addictive. A special appearance from Adelaide rap sensation Tkay Maidza was a welcome surprise, while SAFIA vocalist Ben Woolner reappearing to feature on original track Take Me Over had the whole crowd singing along. Highlight of the night without doubt goes to the communal sit-down of hundreds of students before collectively raving to the ultimate Darude-Sandstorm drop. With the crowd totally and utterly Peking Duk'd, ARIA award winning original High sent the night out in style with a single likely set to reach new heights in this years Hottest 100 countdown.
Powered by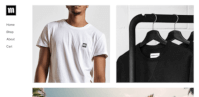 Create your own unique website with customizable templates.