Straying away from the my usual Friday night haunts, The Old Exchange boasted an intense lineup, stacked of local bands boasting their own individuals draws and bag of tricks. The Chase, playing only their second show yet commanding a sizable fan base in their short history. Slick Arnold who quite simply blow the minds of everyone who sees them. Young Offenders, after an incredible 2014, have set themselves to take next year by storm. And finally Tomorrow Rising; packing out venues with their signature brand of hard hitting alt rock, capping off an incredible launch night. And who could say no to a free EP at the door right?
Spending the majority of this year working on their debut release, the time had finally come around mid-November for The Chase to grace the stage for the first time. Unfortunately for their sophmore show, things didn't quite take off as smoothly. Namely being lead singer Bec Moore's mic not being turned on during opening track Relapse. Vocals picking up and the band starting to hit their straps on stage, The Chase kicked into a punk cover of Lorde's Royals, highlighted by lead guitarist Luke Higgins sharp licks permeating out into the crowd. With those pesky vocal issues sorted, all members barring Moore and Higgins took a breather for an acoustic track, where Moore's vocal prowess breaks through, emphasizing the collective talent across the band. Closing with their lead single Hopes and Fears, The Chase are slowly finding their feet as a live band, requiring some awkward stage banter and antics to fill out the bill.

If you'd asked me pre-show about Slick Arnold, I would've told you that I had no fucking idea who they are. If you asked me post-show what I thought of them, I will tell you that I haven't been blown away like that since I first saw Sincerely Grizzly or DZ Deathrays. More like Slick As Fuck Arnold. Brandishing their hard funk, lead singer Jack Crawford flails about the stage like a combination of Johnny Mackay (Children Collide) and a magikarp on land, it's poetry in motion. Reminiscent of a late 80s RHCP without the heroin, Slick Arnold made their mark across the venue and the attendees with finger slapping base lines, leaving myself personally convinced that they should be playing to bigger crowds and bigger venues. Not letting up once during their set, and taking nothing away from the other 3 bands, Slick Arnold put in a colossal show. WOULD RECOMMEND.

Young Offenders
are radical. Playing a run of interstate shows last month to back up their October debut EP release at a sold out Jive show, fair to say it's been a good couple weeks for the lads. Friday night was no different, tearing through EP tracks like
Broken Records
and
Talk Of The Town
, as well as an old favourite
End Of The World
. Centre stage and commanding the show, was guitarist Brad Vowles just taking hold, breaking in power slide solos, snapping strings and looking oh so menacing on stage.
Getting numbers out to a local show isn't perhaps the easiest thing, and getting them to come out in force, packing a venue can be a gargantuan job. But with over 100 pre-sale tickets sold, and a stellar lineup to boot,
Tomorrow Rising
have done an incredible job. Cutting the bullshit and brandishing their gritty, grunge/punk rock, the boys set about upping the tempo of the gig. Think
Rise Against
, with a younger, edgier look, firing out Seattle inspired garage rock, nailing every track. Treating each song like one of their children, currently untitled track simply referred to as
Josh
, the power driven chords inciting several crowd members to break out into a pit. Beach balls and blow up mattresses need to be a part of every gig, shout outs to
Slick Arnold
for providing the goods! Finishing with a
Covered in Chrome
cover blended with fan favourite,
Vanity
, lead singer
Callum Parr
inspiring a sing along within the mini mosh.
Punk, no bullshit, funk, all addiction, rock, hitting everyone inside the venue. A complete success. Any dudes who rock
Deathrays
shirts know exactly what they're on about. For those of you who missed the gig, bad luck, but you can still get your
Tomorrow Rising
fix by checking out their
bandcamp
and
facebook
for future gig deets.
Powered by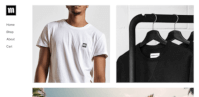 Create your own unique website with customizable templates.