Live Review by Brett Pike

The final leg on a mammoth national tour, beginning in early November and taking Timberwolf + co. across the east coast, back to Adelaide, through to Byron Bay and back again. Playing sold out shows, festivals, taking home two Fowlers Live Music Awards (Best Acoustic Artist and Best Music Video), all with a smile as great as the country he has travelled. Tonight was a welcome closer to what has been an exceptional 2014 for Chris and he is showing no signs of slowing down. None at all.
First cab off the ranks, playing to an inviting crowd early on, was Ballina native
Ben Whiting
. Sporting a look that would best be described as Alexander Supertramp (
Into The Wild
anyone?), playing softly with his sweetly flavoured acoustic folk tracks,
Ben's
was unfortunately lost on much of the early crowd. Captivating nonetheless, the last one man band I've seen to draw and deliver such a performance was a young
Jesse Davidson
on the same stage two years ago, and tonight was as elegant and enchanting as I've seen.
With the crowd swelling and filling the lower deck of
Jive
, the
Pierce Brothers
take stage and take it upon themselves to get the crowd in the dancing mood. Their up-tempo folk reminiscent of
The Lumineers
, brothers
Jack
and
Pat
pouring energy and soul into their work sending warm vibes throughout the venue. Booming didgeridoo solos, chilling harmonica chords and banging floor toms is all part of the show for the duo as attendees gathered their courage, venturing out onto the dance space and grooving and sliding along to the tunes.
With a lending hand from his 4 piece ensemble,
Timberwolf
opens his set with
Into The Cold
, echoing calls and delicate strumming floating along as the band keeps pace with energy brought by the
Pierce Brothers
. Having spoke earlier this year with
Chris
, describing music as "a weapon" that he was most certainly brandishing tonight. Cruising through the set and s
howcasing tracks from his forthcoming EP
Flux
, including a cover of Gang Gajang's Sounds of Then (This Is Australia), the joy of pulling together and throwing one hell of a tour was evident all across their faces. It's for artists like these why music means so much to so many, the lyrics, the voice, the rhythm, all coming together and affecting people like no other event can. Closing the night off with tour single It Burns, with a massive 2015, it's fair to say Timberwolf has earned his time off til he picks back up again at the end of January for the Ballarat Beer Festival.
Powered by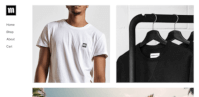 Create your own unique website with customizable templates.