Live Review by Steph Komar

When the sound system is jiggling your butt and rattling the windows, and the beer is cold and the EP's new, there's no turning down a sold out indie fiesta. The Adelaide UniBar, a favourite venue among suburbans far and wide, has hosted many energy packed nights for gig goers in the past. It's to no surprise that it was the perfect venue for housing Adelaide's own Timberwolf- equipped with a new EP and electric energy that only the end of a tour can bring.
Easing an awkwardly standing crowd into a night of indie bopping is seldom easy, but Adelaide boys
SKIES
began the night so gently it was like kissing a snowflake; opening with crisp, resonating vocals that eventuated into an enormous band sound, built upon with drum and bass and spiced with sassy synth. The overall sound felt like
Kite String Tangle
had a bash around with sticks and strings, all the while easing into each track with a consistent gentleness.
SKIES seemed to be in a field of experimentation, alternating between different instrumental leads,
yet utilising their beat pad to maintain their dream like groove. Some tracks were lead seamlessly
with melodic vocals, others would switch up to be heavy on the keys, while
SKIES
latest single
Too Young
, is a delicate balance of the two, resting softly on a sweet synth beat.
The standout point for these dudes, though, was the finale of their set when they ditched the guitar and bass for three times the percussion. A rhythmic jam of two full kits and a makeshift tom,
SKIES
didn't just close their set with a bang but with a kick and a clash too. These guys are showcasing their brand new EP on
September 18 at Rocket Bar
, if you're an indie digging kind of human then this is the kind of show that will get you frothing.
Joining
Timberwolf
on their
FLUX
tour around Aus was the Melbourne trio
Stonefox
. They completely sassed the classic three piece rock ensemble, creating the sweetest indie pop formation with keys in the absence of bass guitar.
A sound reminiscent of
Of Monsters & Men
reared its polite little head when the male vocals subtly emphasised the female leads. Their voices meshed together at times to the point where their differences were near indistinguishable. Other elements of
Stonefox
held a real
Wolf Alice
meets
Tired Lion
kind of vibe, but the final product was a sound totally unique to them.
The contemporary Melbourneness that
Stonefox
brought along to the show was refreshing, revitalising. In fact, if swimming in arctic temperate waters had a sound, their EP Surface would be the closest thing to it; encouraging you to unwind your spine and simply experience. This overall feel was likely achieved by the way their instruments were stylised to complement one another, however, their peaceful stage presence was also a large contributing factor to their unrestricted ambience.
Despite the strength in the support acts, Timberwolf reclaimed the show that was rightfully theirs from the get-go. Dancing strobe lights emphasised the phenomenon as the Adelaide boys delivered a true performance, nothing short of theatrical. Vocals that are smooth like Matt Corby often lull people into different realms, but the wholesome big band sound was grounding enough to keep the crowd stamping their feet in encouragement.

Mid set Timberwolf chucked out a real crowd pleaser. An illegally seductive cover of Arctic Monkey's I Wanna Be Yours, spun with a deliberate slowness to tantalise the gooey eyed crowd. They branded their name on the song by adding a crowd surfing guitar solo, because why not, right?

Timberwolf delivered their new EP with such exuberance that listening to it on record almost doesn't do it justice. The volume of their tracks would develop massively and their ensemble on stage continued to grow. Original tracks like Into The Cold, had the floor rumbling in anticipation before the song had a chance to progress. The familiar oohs and ahhs that encouraged new fan participation made an all-round pleaser for everybody at the show.

There really was no limit in the lengths Timberwolf took to achieve their enormity. It would get to the point where everyone on stage was assisting with vocals and percussion. And then, of course, as soon as you would think they reached their pinnacle of hype, a dude with a violin shows up for an appearance in the shemozzle. Let's just say they sealed the deal on that stellar concert feeling a lot of bands struggle to deliver.

Just as Timberwolf ripped up UniBar on a rumbling journey, they drove their set home with pure humbleness and appreciation for their roots, their support acts and all the ridiculous additions they had on stage. The three bands, each noticeably different than the last, tied together in a way that reminds you just why it sold out in the first place.

Don't stress, Timberwolf, we wanna be yours too.

Powered by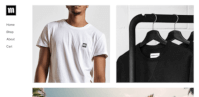 Create your own unique website with customizable templates.