Live Review by Jacinta Hriskin

Last week, These Wild Animals launched their second EP Enstasy on a barmy Saturday night at Jive. They were supported by local lads Walking With Thieves who performed an acoustic version of their set for the first time. Having seen these guys before, it was intriguing to see a usual fiery and heavy act break it down to a more spine tingling vibe. They certainly got the crowd excited and the numbers increased as These Wild Animals' set grew closer.
The lights were down, and the numbers grew large before the three piece modestly graced the stage. I did not know what to expect from
These Wild Animals
, and I was certainly shocked by the first number. The boys opened with an addictive riff on an electric acoustic guitar. This song reminded me of
John Butler
in terms of the harmonic sounds and humble overall feel that was achieved. A very clever opening that absolutely captured the audience.
One thing about this band that really drew me in is the way their songs are not all about the vocals, but rather they tend to expose all instruments to complement a song. This is a style that you don't often see in mainstream rock and roll, hence why they describe themselves as alternative. The riffs were heavy yet clean, the drums were powerfully supportive and the bass was slapped so damn well. On top of a great performance, the lighting for this show was the cherry on top. Each lighting sequence accompanied the music so well, assisting with creeping buildups and rocking breakdowns.
A highlight for me was their cover of
Kashmir
by
Led Zepplin
. Being a fan of Zep, it's always a nice surprise to see a local act perform a tune that quite a few of us have been brought up with. Their version had an almost reggae influence, sounding faster and a little more upbeat than the original. Thumbs up from me!
These Wild Animals
technically pull off a 90s grunge rock sound, but bring a new meaning to alternative rock. This is done through their tendencies to push through a familiar 70s rock and roll sound inspired by such bands as
Led Zeppelin
and
Black Sabbath
. If you weren't lucky enough to pick up their latest EP on the night, then you will have to keep an eye out for them in the new year. Catch up on their latest news through their
Facebook
page!
Powered by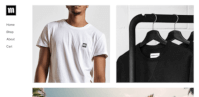 Create your own unique website with customizable templates.