Words by Brett Pike
Always, always take the advice of a friend, especially when they clearly know their shit. Just one of the many added benefits from sharing a pot of 2 minute noodles with a random girl and becoming great mates just a couple days later. Here's to you
Brodie
, you're a champ. Previously unknown to me,
The Verge Collection
were playing at the
Crown & Anchor
on Wednesday night, with the show sitting perilously close to selling out. With fuck all plans on a shitty Wednesday in Adelaide, I jagged myself a ticket and headed on over. Here's how the night went on night one of their
For The Story
tour, sold out, in Adelaide.
Pub rock never died, not really, it just experienced a lull period during the 00s-10s when Idol competitions were all the rage and we allowed artists like
Pitbull
to become household names. But it's fucking back. It's not a revival, it's just good old fashioned meat & 2 veg music.
The Weathered Headz
are riding that wave right now, coming through the ranks which are lead by local and national treasures,
Bad//Dreems
. Easing themselves into the set rather slowly and a little expected on a Wednesday night, the boys slowly grew into their own as their set progressed, sharing vocals across both guitarists. Jumping between bits of surf rock and pieces of pub/garage, the boys showing of their current single
Out West
was certainly a standout point of their set, and while I won't be rushing out the door for their next gig (
Ratfest
next Friday for those playing at home), they certainly exhibited signs of nous and comfortability on stage that I will be keeping a very keen eye on them from now on. Good stuff good stuff.
Purely an observation from being around a wide range of different people the last couple weeks but the overwhelming thing I've noticed is how many fucking people are wearing Skegss merchandise these days. God damn I've seen more than enough for my lifetime at least. Band tees are dope.
Supporting on the night, next up was
The Unknown Locals
, and bringing with them a heavier set and a more confident persona on stage. Pushing straight into the set, armed with a couple of new tracks they've got coming out in the coming weeks, the boys lifted the tempo with a hard hitting cover of
Skegss
Spring Has Sprung
, with frontman
Jono Dewar-Cutting's
wailing vocal's ringing out over the crowd. Pausing, albeit briefly, to push through some words about the hell that is the black dog, the boys smashed out an absolute treat devoted to those going through some tough times. You could tell once they were playing songs they've got a personal investment in, the performance went up another notch. These guys are a fucking good band and it was clear through the reception from the crowd, that everyone else thought so as well.
Taking stage at the first leg of their current '
For The Story
' tour,
Verge Collection
arrived quite unceremoniously onstage to the now sold out band room, jumping straight into their set and delivering some smooth smooth surf rock sounds out into the world. Knocking out tracks from last years
critically acclaimed
debut EP,
Open Plan Living
, with
Postcodes
and
Class of '09
being a couple of personal highlights,
Verge Collection
delivered one of the more spectacular Wednesday evenings that Adelaide has had for a long time.
Smashing through their set and drinking in the banter and energy flowing that exists between the stage and the crowd, the Perth outfit never dropped key delivering a polished and composed performance that'll certainly kick off their run of dates in style. Closing out the set with what can only be described as an absolute fucking banger of a song,
Our Place
(seriously check it out), the boys the unexpectedly turned their amps up for a rousing rendition of
Motörhead's
Ace Of Spades
before departing for the night and off to Melbourne with a long week ahead of them.
A bunch of stoned and drunk 20 somethings, moving around a sticky band room with bodies drifting and bouncing and bopping and flowing back and forth, out on a school night as well. What's there not to like about that.
Both local supports
The Unknown Locals
and
The Weathered Headz
will be playing at next weeks
Ratfest Warehouse Party
and they are certainly a couple of bands more than worth checking out.
Powered by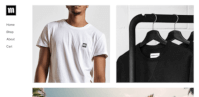 Create your own unique website with customizable templates.