Live Review by Jamie Oliver

It was a scorcher of a December Saturday and Jive was the venue to see The Skeleton Club celebrate the release of their EP Rattle & Smoke. Having released the EP online and with an intimate launch at the start of the year, time had finally come for the musos of Adelaide to taste the delightful folk sounds the band had on offer.
After a painfully exhausting day in the field, I rushed home, threw off the whites and hesitantly replaced them with my favourite gig jeans. Refuelled next and made my way into the CBD to just miss opener Ollie English, who you might find The Bakehouse talking about heavily in the coming weeks/months/years.

Second support was newcomers Flying Doormat. Although only having played a handful of shows before tonight; they displayed steady comfort in their abilities and had me bopping away to their psychedelic keys, guitar licks and occasional rapped verses. Definitely keep an eye on them.
I have to admit, I'm not one to frequent folk shows, but you can always appreciate a band with excellent musical talent. In fact one of the main features for me on the night was how evenly spread the musical contribution was from all performers. Usually a humble five-piece, three extra guests joined on-stage to make it nice and snug while adding perfect synergy with all songs written. Special nod to the trumpet giving even more depth to the Latin inspired arpeggios and chord progression.

Harmonised vocals impressed and you could only respect the heart that everyone put into their performance. Personally a sucker for ballads, The Skeleton Club more than whet my appetite with The Rotation and kept the night humming along with tracks like José and Blues II.

The elation of the crowd remained constant throughout with everyone fit comfortably in the cosy Jive setting. You couldn't help but sway your head and tap your feet with a lively group nestled at the front finding it hard to contain their joy and proceeded to sway around arm in arm, drinks in the other; indicative of the night's great show.

Every song coming to a close with loud cheers and whistles, The Skeleton Club more than delivered on a night they desperately put a lot of effort into starting with the crowd funding for Rattle & Smoke some time ago.
The Skeleton Club
have three more shows for the year before returning in late February so be sure to check their Facebook page for dates and venues. In the mean time go have a listen and let their sweet, sweet tunes take you away.
Powered by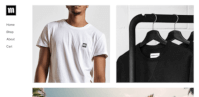 Create your own unique website with customizable templates.