Live Review by Brett Pike

Two nights. Two EP launches. One street. Grenfell St. Tonight's venue? Producers Bar. Walking into the venue a singular thought pops into my mind, why the fuck aren't more bands playing here? Great set up, ample space, nice staff. Added the soundtrack in the band room is a selection of Red Hot Chili Peppers discography. Great choice. Tonights bill consisted of four bands, a long one but a good one. Orelia, Jungle City, Valkyries and of course The Serra.
Delightful duo
Orelia
opened the stage, looking a little like they had been tarred and feathered in a good way (is that possible?). They pulled it off nonetheless. Their cover of
Annie's
Tomorrow
was definitely somewhat of a highlight.
Chelsea
and
Troy
are just the right combination of heart and passion that gives life to splendid live music. Good music is good.
Next up were psychedelic trio
Jungle City
. Winding the clock back 50 years, the boys are a spitting image of the era sporting their button ups and considerable lack of haircuts. Opening with
Baby, I'm Leaving
,
Jungle City
show the class of a band that is able to construct their set, and deliver it with intensity and infectious enthusiasm. A recent track of theirs,
Sex Switch,
hails back again to their roots of
Zepplin
and lifts the set another notch. Top performance lads! (you can catch them at this weeks
Punk Ass Kids
on
Wednesday night
)
One band I've waited to see live for almost a year,
Valkyries
had me hooked ever since the release of single
Mistress,
coincidentally the track they opened with as well! Special mention to guitarist
Stefan Hauk
for lazer-like precision on the guitar. More recent single
Neon Zoo
also featuring earlier but lacked a little on the delivery. Having just recently returned from a studio session in Sydney,
Valkyries
premiered a taste of an upcoming single, and its a banger. Stay tuned because you're gonna want to hear that one.
The stars of the night. The Serra. In my hot little hand all night was their debut EP
Indigo
and there was no disappointed faces. Title track
Indigo
came early and powerfully with lead
Angela's
vocals. The best way to get back at someone is to turn them into literature, as shown with odes to dickhead family members in
Paolo
with
Angela
jesting towards a more than forgotten brother. Rounding out their set, that built and fell and picked itself up again, it seemed appropriate to pick a song that encompassed both of those things. Covering
Karnivool's
All I Know
,
The Serra
capped off an exceptional performance with an ever more impressive cover.
Powered by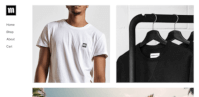 Create your own unique website with customizable templates.