Live Review by Alastair Farr

​Our newest contributor and most talented bass guitarist on the roster, Alastair Farr was out and about at Adelaide's hottest new nightspot Fat Controller to check out Brisbane's notorious party crew The Jungle Giants along with locals Cabin Cults and Leo.
Whilst standing and listening to the first opening band
Cabin Cults
and their special brand of synth infused rock, I
t
ook in the surroundings of what used to be known as one of Adelaide's iconic venues:
The Cavern
.
The
Fat Controller
, as it's now known, has some serious warehouse feels. The neon lit room induces slight associations of a night club; yet, the starkness of the place gives off something rawer, more rustic. This felt like it could be a place for any genre of music; punk, metal, electronica, whatever…..
A special mention should go to the second support,
Leo,
who prepared the crowd for some good-feel vibes. Their brand of electronic inspired indie pop has not gone unnoticed and it's not the first time the band has opened for a popular name having supported the likes of
The Veronicas
and more recently heartthrob
Andy Bull
.
First on stage was drummer Keelan Bijker, who emerged from backstage dancing to the pre-performance tunes. Other band members Andrew Dooris, Cesira Aitken and Sam Hales followed suit. All seemed in good spirit and had their groove on.

Front man Hales straight away appeared as the focus for attention. He wore a cap that restrained what were probably long locks of frazzled indie inspired hair. This surely was an attempt at some kind of metaphor for his performance that night that resembled energetic like 'frazzledness' as he made his way from one side of the stage to the other interacting with bouncing listeners and party goers.

The band opened up with Skin to Bone, an instant favourite for all. Like their front man, all on stage were animated with the exception of Aitken whose focused demeanour on the execution of her riffs made for a likeable contrast from her comrades.
Crowd surfing, dancing, bouncing…. Gig goers were lively that night; it was a proud Adelaidian moment to offer such an audience for the popular interstate band.
Although the band has a relatively new album out
Speakerzoid
released in October, the night was mainly a mix of their most well-known, summer inspiring tunes. This made for all in all a good night.
Powered by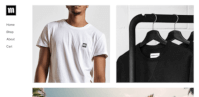 Create your own unique website with customizable templates.