Live Review by Jacinta Hriskin

The loudest place to be last Friday night in Adelaide was another mini music festival held by Pirie & Co. Social Club. Hitting the stage this time round was Baja Bleeders, Kitten Kong, Seventeen Fifty Seven, Young Offenders and Tall Enough To See.

Newcomers to the stage, Baja Bleeders, opened the night with some fast and upbeat tunes that got the crowd into the mood. This two-piece have a garage surf-rock, punk inspired sound to them, and can make a lot of noise for just two guys! With a few fumbles along the way, the boys seemed nervous, but it was clear that they love what they're doing. A tad more confidence is needed, but a great effort for their first show! I definitely see potential in these dudes.


My favourite 60s inspired mod-rock band in Adelaide, Kitten Kong, were next to grace the stage. They hit us with some trippy, yet smooth tunes that went down nice with a few beers. These guys know how to send out those good 60s vibes that make you want to groove like a spaced out hippy. A little more energy would have strayed the crowd away from the bar and closer to the stage!


It's been a long three months, but finally Seventeen Fifty Seven treated us to some funkalicious rock tunes. With regular symbol slammer, Liam Burgan not in Adelaide, good friend and badass drummer Henry Gazzola took one for the team. The boys aced their regular set and as always 8 Legs was the crowd favourite.


After starting their year off only hours earlier at The Gov, Young Offenders brought the night to a whole new level. The energy and tightness of their set got people jumping around, singing along and spilling drinks. The boys are usually good at utilising the stage to entertain the audience, but I blame the lack of room at Pirie & Co. for their minimal movement. They also threw in a cover of Fell in Love with a Girl by The White Stripes which they made their own. These boys are showing great professionalism and will be smashing out the gigs this year, so do yourself a favour and make it to one if you haven't done so already.


Tall Enough To See ended the night with their pop-punk style keeping the night alive. The boys have come a long way since their last gig at Pirie & Co. They have been busy recording, so it is clear to see that they have tightened their tunes up. The sound was great and the boys work really well together on stage. A highlight for me was their cover of DZ Deathrays Gina Works At Hearts. They are clever at choosing crowd pleaser covers and absolutely smashed this one! Keep an eye out for the release of their EP, it won't be too far away.





Powered by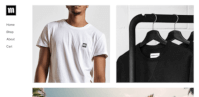 Create your own unique website with customizable templates.