Live Review by Joey Froffs
Ahhhh
Rocket Fridays
. There's something about the pace up the two flights of stairs to that ever so familiar smell of smoke and slut dropped spilled beer. On tonight's agenda was a very individually dressed bunch of hills yahoos going by the name of
Salibu Macey
. Headlining
Rocket
for the first time for the release of their debut EP
Wilpena Street
(which I will add is a very, very solid first release), I knew from the second I walked in, it was going to be a ripper
Kicking the set off with my favourite of the EP, a track titled Bones. The boys gave no warming to crowd, punching straight into a banging build up to a powerful sing along chorus. Passion, energy and excitement was wiped all over the faces of the rows of people and the four gurus on stage. With that I was hooked and wanting more.

Song after song continuing through their set, throwing in a few new with the old. I found an absolute stand out track mid set, Fall Out The Sky. With a quick 1,2,3,4 BANG!!! I'd only had a few beers but fuck me, I couldn't help but move to that ballsy, arctic monkey-esque riff. Smoothing it out only to bring in a huge scream until your lungs collapse chorus. I can only hope the boys keep in this direction, I can see this going very well in their favour.
With Rocket's man on the ground Adam Cope keeping a tight schedule on the night giving the boys one last song. They knocked it out the park with a medley of Smash Mouth Allstar, sliding into Hilltop Hoods Nosebleed Section. The boys finished on such a high I can imagine anything up their noses would've been useless.

I really don't have a bad word to say about the boys sounds. From that creamy as bass tone, jazzy keys to James Catford's guitar tone being messy and overdriven but still tight as a nuns, well you know what. They sounded overly professional for how long they've been around, and I was very impressed. Frothing off the few face melting, buttery improve solo sessions James slipped in when he can, I could've listened to him shred that axe all night long.

If you can't tell already, I cannot talk highly enough of how much I admired front man James and his 80's porn star moustache. He has an undeniable rock star stage presence with the confidence of Leonardo DiCaprio. But in saying that, he still showed me that he is an absolute top bloke. Without a hint of reason expressing his gratitude for everyone supporting the band on this night and in the past. I personally gained a lot of respect for him, really empathising and making the crowd feel wanted and valued.


Salibu Macey
have snuck into my radar and I will definitely be giving them a solid
Instagram
and
Facebook
stalk in the coming months looking out for details on the new album. From what I heard on Friday night, my best advice, get around this local band before they take off as a touring band, or models for General Pants co.
​You can check the boys out on their social medias above and if you're liking what you're hearing, check out their debut EP
Wilpena Street
belowwwww.
Powered by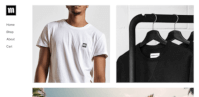 Create your own unique website with customizable templates.