Words by Joey Froffs

English was never my strong point in high school… BUT BOY OH BOY HAVE I GOT A DAY TO RECOUNT FOR YOU!!!
A little fella by the name of Harris, creator of a fundraising event he calls "ROLLARAMA", slipped the ShoeBrew Crew a little DM. Giving us the heads up about what I found to be one of the most rad days of the year. A HUGE roll in which everyone buys and wears the yearly designed T-Shirts. Starting from the beloved Henley Skatepark, behind the Henley Shark's Football club, and to finish at the iconic West Beach Skatepark.

The day absolute gets better from there when you hear there's an afterparty at the new age Mexican restaurant, Beach Burrito., conveniently only a couple of kilometres away in Glenelg where three local western suburbs bands donated their time to help continue the fund raising. With all money going to help under privileged children get a new skateboard or anything with wheels, it was day I was more then happy to be a part of.

If you're thinking to yourself "I bet they're all pro", "I don't skateboard, I don't want to look out of place" you are most certainly wrong. This day is for absolutely anyone and everyone who loves cruising the picturesque shoreline of Henley Beach and West Beach on anything with wheels. Bikes, scooters, longboards, skateboards all welcome with open arms. Heck! I even saw a man in a wheelchair with a bike attachment complete the trip with all smiles. Nothing but positivity, support, love and great vibes was had from 12pm to 12 am.

Making our way down the local hot spot 'Pine Town' or in everyday terms you would know this road as East Terrace, Henley beach. Surrounded by the historic, overflowing, tall standing pine tree's myself and the group of 70 or so yahoos sped our way down the 500m scenic strip. To find ourselves congregating as a team to venture to what was my favourite part of the day. The Johns Lane Hill Bomb.
As a group, gaining a bit of breath back after trekking through to, and up the mellow and forgiving side alley descent. Silently splitting up with the confident punters wanting to smash the hill showing off and what not leaving the rest of the group to have a smooth and comfortable time making their way down the 100-metre slope. I personally jumped in at about the middle allowing myself to do a bit of both. Racing down the hill, feeling the wind run through my hair I loved every second of it. Funnily enough, with such a large group rolling down a hill, no one was injured. What could be a parent's worst nightmare could be compared to a mere pillow fight. With that over it was time to nail it out down
Sea View Road
.
I didn't know what to expect of the daunting long slog to
West Beach
. I was shocked to find how many breaks everyone took to re group to keep everyone safe, with the number of hills we went down made it so much easier on my body to complete the journey. I wouldn't say I'm the fittest person in the world, but with a bit of effort I did it. Out of breath and pretty knackered I ended up at our destination where the smells of
Bunnings
snags wafted up my nose and a feeling of nostalgia came over me. I've never done or seen anything like this. All I wanted to do was click pause, rewind and do it all over again.
Opening the proceedings was a raucous, in your face punk band going by the name of
Unknown Locals
. These boys looked like they'd definitely had a big day if you know what I'm saying, in saying that.. They still turned it on, hard! Picking up the vibe of the room that was looking a bit worse for wear from exhaustion of
ROLLARAMA
. Swapping instruments between members it was hilarious and interesting to see the band sharing the spotlight. Hands down, the highlight was bass player
Jesse Jenke
turning purple whilst taking the front man position to belt out a roaring cover of
Jamie T's
Stick & Stones
. Onya mate! That was a tough one and you spat those words like they were your smokers cough!
Adelaide's, well you know what I don't really know any more, but I'll explain that laters,
Venice Queens
. Where the jam and cream meet between the Kitchener Bun, comes the
ROLLARAMA Afterparty
. I have been frothing watching this band build and continue to grow from ground zero. Actually to be honest, I don't think they ever started that low. That being said Saturday I was almost about to call 000, their set was looking to break the floor! I don't know if they changed a guitar tone here and there? Had a solid pep talk? But something was firing, and I was feeling like somebody had slipped me some viagra!
I swear the crowd had some of the water I crushed it up in. Their voices were well exceeding wailing front man
Sam Littles
in volume for not just one, not two but all three of the singles they have released in the last 6 months. UNREAL! Just when I thought I could title the band a what, Indie Rock band? The boys showing of some new bangers that will certainly shoot into the charts like Bon Jovi through your heart. Almost diving into something a little more alternative, I was bamboozled and thriled to see what I think will soon be a recognised sub-genre they've created titled, Adelaide rock. Cannot wait to see what these 5 guys have to show in 2018.
What do you get when you cross the funky rhythms of
Stevie Wonder
with the original grunge of
Nirvana
?
COSMIC FOSSIL
! Funky, raged, 90's, playful, smooth, sweaty rock. I honestly love how this band haven't specifically found their sound yet. I can back it that any random punter, with any kind of music background. Could come down to a gig, have a beer and feel electric from at least 1 of the boys ripper tunes! Speaking of electricity..
Cosmic Fossil
were jolting and full of THUNDER! With the crowd vibing off the lighting they were striking down! A packed out
Beach Burrito
dance floor on their feet dancing, swaying, shaking what their mama gave them GET ONNN ITTT! Whoops, my bad.
I lost my composure there for a second, I was just quickly thinking about how fucking great of time I had. With no tracks released as of yet, it was mental to see people still managing to call out a few words and know the song so well after 2-3 listens. I think I can sense a little bit of hit to come from the boys debut track! This is the third time I've seen the boys, but the first time I've been fully blown away. It is evident to see every time they grace the stage they're learning, observing and enjoying the stage life that oh so so much more. I'm shaking in my boots for how rattled my ears will be from the constant full volume of their debut track blearing through my ears. But you know fuck it, it definitely going to be worth every second.
Video Credit: Jordan Lawless
ROLLARAMA is without a doubt, THE BEST DAY IVE HAD THIS YEAR. The cause, people, food, music, vibes, fitness? You honestly cant say a bad word about the day. Accept for that it went way to fast and I cant do it again next weekend. If I can tell you one bit of advice from my days, it get out next year and have yourself a time.

Froffy Joe
Powered by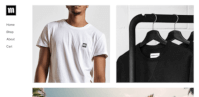 Create your own unique website with customizable templates.