Review by Brett Pike

When you're mate looks at you on a Friday night and says "Yeah fuck it why not I'll come along", you had better do your best to make the most out of it. Tonight, Rocket Bar was the host with the most. Sailor Jerry flowing, Australia Day reminiscing, and Lost Woods producing some of the most angelic sounds to grace your ears. It was a night for it.
Gutted having missed a change of lineup, alas missing out on the greatness that is The Rocketeers. But walking into the iconic Hindley Street venue, Dan White and co. were set to break into full rhythm. Dan's brother Josh on bass, possibly the most energetic bassist since Flea last took recreationals, the band producing a polished performance that included last years debut single Simplistic Things. Though the crowd was yet to grow, the mood was lifting though the set and those shivers just crawling up your spine while the band continued on their merry way.
The Informers are born performers. Drawing in the attention of the growing crowd inside Rocket, lead singer John Broadbent, takes command on stage delivering rock in a very pure and honest form. The change of lineup had done nothing to falter the bands confidence, building on each song and closing out strong.
Lost Woods? I don't know what to say. I am still 110% blown away. Part Thievery Corporation, part Jeff Buckley, part mind melting rock and or roll. No vocalist I have seen past, present or future has the range and reach of Peter White. Those reeling, wailing vocals closing out on opener Monegasque, will forever be etched in my mind as a time I felt one in the clouds with my feet firmly on the ground. It was as if I was listening to Jeff Buckley's Grace for the first time. Mesmerized, in a trance as Lost Woods bounced from song to song, the now large growing grooving and grinding away to the sounds of the quintet. And the best having been saved for last. Newest single, Ancient Psychic Tandem War Elephant, as much of a mouthful as it is, is the song of the year. Quote me on that one if you may, but hearing those waves live was something else.

I still can't get it together. Four hours later, 5 vodkas later and a run in with Dan Sultan at the Adelaide Casino later I am still in awe.
Powered by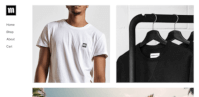 Create your own unique website with customizable templates.