Live Review by Nick McLean

We've waited ever so patiently. Years have passed, grown out our hair, cut it, and grown out the fringes again. Track by track we've been drip fed throughout live sets like the final drops from a pint of draught. The wait is over, the album is finally here and we were there covered from head to toe, drenched in sweat and basking in the light of Horror My Friend's debut LP, Stay In, Do Nothing.

The local favourite three-piece,
Horror My Friend
, took to the Pultney Street boutique on Friday Jan 22nd to celebrate the release of their highly anticipated debut album
Stay In, Do Nothing
. A large and loyal group of fans spilled into the street to end an 18-month wait since their critically acclaimed second EP (
A Million Hands
, 2014), to hear the incredible sonic progression the band has made.
The set began with one half of the guitarist/vocal duo,
Josh Battersby
playing his songs from the album, which included the road-tested singles,
Mazes
and
Stay In.
After ripping through the snarling hooks the band has become known for, it was time for
Tom Gordon
to pick up his Fender and dive into some of the albums more dramatic cuts, like
Same Minds
and
PB Remains
.
One of the special things about this band is the way they operate as a unified force. Between
Battersby's
poppy chorus on songs like
Stay In
,
Gordon's
chip spitting screams in the closer,
PB Remains
and
Sam Kolesnik's
perfectly aggressive drumming that you could set your clock to; it's obvious that each member is as dedicated as the next.
​If there's one band you should keep an eye on this year, it's
Horror My Friend
. You can do so by catching them again at
Jive on April 1st
or pick up the album
Stay In, Do Nothing
which is out now through
Poison City Records
.
If I die after writing this review, don't be sad. Because last Friday I witnessed one of the greatest albums in recent memory being played in full in the sweaty sardine tin that was
Clarity Records
.
Powered by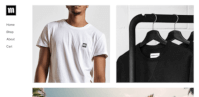 Create your own unique website with customizable templates.