Live Review by Jamie Oliver

First of all; for those who say that there is nothing to do in Adelaide are honestly kidding themselves. It's time to get out from under your rock or down from that high horse you perch yourself on because what HillSidefest 4.0 showed me on the 29th of November is that we've got a lot of juicy talent sitting right here in our own backyard, just waiting for us to sink our teeth into.

The day started off for me walking up West Thebarton Road to the site of HillSide Studios on an absolute wonder of a day and from as far back as the West Thebarton Hotel I could hear the tantalizing sounds of loud guitars and crashing cymbals. Payed my entry, got my stamp and this would be my sanctuary for the rest of the day. Moonfaker would be the first cab off the rank, playing on The Lil Pad, kitted out in tradie overalls and balaclavas. Like any good grunge band starting out, what they lack in musical adventurism they make up for with their energy and simple, effective melodies; hats off to them because starting the day off for any festival isn't going to garner the same crowd as some of the later playing bands. Performing in front of a handful of people on a 36 degree day could be somewhat deflating but they didn't show it, even chucked in a cover of the original Pokemon theme song.

This years HillSidefest, or Mattfest as it was once known, had all the usual gig folk turning up and everyone was more than willing to chat about what they had been up to and what they were looking forward to in the day ahead. Hello, Lover currently playing on The Alley Stage, Larissa Perry supplied her clean chord progression and soulful yet compelling vocals. With the sun still high in the sky, the selection of people all pushed to one side where the only means of shade was located and made for good viewing. Being a BYO event, I thought it necessary to quickly duck down to the closest bottle shop and grab a six pack before I missed out on any forthcoming performers. I got back in the nick of time to catch the end of Lovers set and plan out the rest of my day.


Sustenance was needed and the happy people from local food truck La Chiva were on hand to deliver all of my South American cuisine needs. I sat down on one of the supplied couches, tucked into my Copacabana Roll and soaked up the atmosphere of the day a bit more. It's A Hoax were currently playing and had caught my ear, being without lead vocalist Kiah Lanagan made it difficult to pick them, as the rest of the guys were divulging in an instrumental set but I was definitely picking up what they were putting down; and in guitarist Josh Roberts case it was himself as some guitar strap issues forced him to take a seat on the stage and jam out down there. Their blend of jazzy tones and catchy guitar-play made for an enjoyable set, which plain and simply let the instruments do the talking.

After watching the dudes from Charlie Monsoon play their own brand of power rock it was time for one of my personal highlights from the day, West Thebarton Brothel Party. Comprising of seven guys from several musical outfits around Adelaide, they turn the amp to eleven. You would forget that they were cramped into the small alley way stage as they played with such freedom and punched you in the ears from the outset and throughout. Opening with the lesser known song Two Bit Loser, which in my opinion is a perfect introducing track with the opening guitar riff leading you down a path of mayhem. With vocalist Ray Dalfsen perched at the very front of the stage you had no option but to take in all the exciting and addictive stage play, one thing about Dalfsen is that he is a born front-man and as rhythm guitarist Josh Battersby said to me on the day, "Ray makes the band", and I couldn't agree more. Not to say that everyone else takes a back seat because that would only be pedestrian; each member likes to have their bit of fun on stage and it permeates through their music, most notably with commonly known tracks Chemotherapy and recently released Glenn McGrath. I was left with a pit in my stomach, only because I hadn't seen them since they were in their infancy and felt ashamed I had missed out since then.

Glass Skies came up next, with vocalist Josh Van Looy sporting some rather obvious stitches from their previous gig at the UniBar and a few technical difficulties occurring during the set, they still managed to melt the faces of the crowd with their psych influenced guitar licks accompanied by some smooth keys and catchy drum beats. Ending with Highway which can be heard on their self-titled EP, left everyone wondering if they had just been transported back to the late 60's. To stick with the similar prog type of vibe was Battlehounds with premium fuzz and a very grungy feel to the vocals; Alex, Andrew and Dale worked their asses off to put on a good show and they didn't disappoint.


Following on was another personal favourite of mine, Horror My Friend. With new drummer Sam Kolesnik seamlessly fitting in with local legends and all round nice guys, Tom Gordon and Josh Battersby. The set consisted of the two guitarists taking on half of the vocal duties each, as what has become common in an HMF performance. Battersby kicked things off with No Energy smashing, thrashing and screeching through their show with Gordon finishing up with the mesmerizing A Million Hands, both songs listed on the bands A Million Hands EP.

With the time roughly about 8:00 it was time for a breather. I moseyed around the site taking every opportunity to rest my weary gig ankles. Indulging myself in bit of acoustic tunes from the beautiful Lil Valentine who clearly showed her experience with the lovely finger play and heartfelt lyrics. Also playing around this time back on the Alley Stage was The Dunes; with their spacey compositions and vocalist Stacie Reeves' magnetic and slightly erotic front work it got me a little disappointed I didn't get to view their set in it's entirety. I could only look forward to the next opportunity I am able to get to see them again.

The sky was getting darker, bands set up and eventually pack up, but now onto Archers would I notice a common theme to our effervescent group of local acts. You can't be happy playing in just one band. With Sam Kolesnik (Horror My Friend) and Brian Bolado (West Thebarton Brothel Party) gracing the stage with fellow psych post-rock deliberators. Archers was nothing short of amazing, with gripping and poetic vocals woven with measured and vibrant rhythms, these guys seriously know how to play and it is an understatement to say that more shows are needed by them.


The night was ready to wrap up, with the guys from Bad//Dreems setting up. A few minor delays had the crowd getting wrest less. Maybe this filtered through to the beginning of the set, I'm not sure, for some reason it began slightly subdued in my opinion. Fortunately, it didn't take long before they got into it and ignited the crowd. Working their way through popular tracks Caroline and Hoping For, everyone was ready to jump on one another. Not even the melancholic My Only Friend could silence the group of larrikins bopping away in the confined alley way. A giant plush bunny was even being thrown around, collecting filth along the way. Vocalist and rhythm guitarist Ben Marwe has an odd stage presence, almost like he's itching to rip off his guitar and bang his head; the only problem is he has to sing. They called up their surrogate fifth touring member to take over guitar duties for the last couple songs and that's when Marwe's enthusiasm came to the fore. The dynamic of him roaming around, belting out his ragged yet punchy vocals seemed to fit perfectly. Maybe some food for thought for them, that is unless they have already began to consider.
Alas that marked the end of this years HillSidefest. Where it could be seen as a bunch of mates playing to a group of losers, but we wouldn't have it any other way. It only gives you an itch to keep yourself involved, keep yourself supporting what we have and for crying out loud, don't look back!

Powered by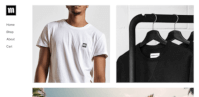 Create your own unique website with customizable templates.