Live Review by Brett Pike

It's been two and a half years since this trio melted my brain at Jive. Back then, DZ Deathrays were touring their debut LP Bloodstreams, Velociraptor had never played an Adelaide show and Horror My Friend were a couple of super cool dudes I'd moshed with at Laneway Festival earlier that year. What a long fucking journey it's been.
Last minute plans are the best kinds of plans. Racing home from uni, bag down, pants off, torn scummy spray painted DZ shirt on and straight towards Fowlers. Familiar sounds echoing through the doors as we approached the venue, them being Horror My Friend taking to the stage and crushing into Kaleidoscope off their recent A Million Hands EP. Nineteen times I've seen this band and the only bad thing I can say about this band is the lack of San Cisco covers. Whether they're belting out early tracks like Lifeblood, or powerhouse of sound that is Be Good, the crowd response is lovely. Clearing winning over legions of new fans at the rarity that is an all ages gig, we may have even spotted a Tom Gordon signing tent (the existence of said tent is disputed). Nevertheless it was another solid performance from the boys.

Landing in Adelaide a mere hour or so before they were due on stage, was party fun band Velociraptor. Whoever thought a ten-plus piece (though on seven made Fridays' show) featuring no less than five guitarists at any one time could release a full length album had to be crazy. But they did it. And the live shows are just delightful. Vintage tracks In The Springtime and Sleep With The Fishes sync up well with modern day hits Ramona and Sneakers as the Brisbane outfit motored along through their set. Being fronted by one of the greatest all-time good dudes Jeremy Neale doesn't hurt.

In Europe on Monday, playing a gig in Adelaide Friday. The frequent flyer points have got to be through the roof. DZ Deathrays reputation for bone-busting live shows is not to be underestimated. A little unfortunate for the kids standing near the barrier hoping to catch a glance from Shane or Simon. Kicking off the frenzy with No Sleep, DZ Deathrays monstered into their earlier tracks for the first half of their set before delving into Black Rat to finish the night off. Teeth and The Mess Up drawing cheers and praise from long time fans dying for a taste of the bands younger house party image. A short tuning break and Shane Parsons moves into the new record, busting out title track Black Rat. Unfortunately for some knobheads in the crowd, this isn't a sign to start a fist fight, take that crap to boxing ring. Closing out the night with Reflective Skull and Gina Works At Hearts, DZ Deathrays had given it all, drained from a long week with more shows still to come. Simply though, they never disappoint their fans.
Powered by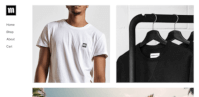 Create your own unique website with customizable templates.