Review by Lauren Varo

Launching his first headlining Australian tour on the back of the recent Bones EP, Dustin Tebbutt graced the depths of Adelaide's underground at The Pirie & Co. Social Club. With sold out shows in Adelaide, Melbourne and Sydney, the 2014 Triple J Next Crop Artist has set the bar high with a strong following who he has not failed to disappoint.

Local singer/songwriter Timberwolf warmed up the packed out venue with a set of folk-rock bliss. Usually a lone wolf, the Timberwolf-pack was accompanied by the harmonious vocals of Adelaide singer Maggie Rutjens to provide several new singles along with debut EP standouts such as Into The Cold. An acoustic rendition of James Blake's Retrograde provided the highlight of the set, suggesting good things to come from the new Cairns recorded album to be released in August.

It's clear that Dustin Tebbutt is a man to please all sorts, drawing a diverse audience varying between the usual indie-folk loving twenty-somethings to a slightly more mature audience. Yet as the first chords of leading track Bones opened the set, the entire crowd remained mesmerised by soft captivating vocals and it was clear that the hype of the sold out show was justified.

Not all went according to plan however, with the trial of a new single ending on some out of tune chords temporarily breaking the otherwise tranquil mood of the set. But for a new song on the first show of a new tour played by a first time headliner, mistakes can be forgiven. Recovering with some quick wit and banter, Tebbutt was back in form.

One could easily mistake Tebbutt for the folk vocals of Justin Vernon aka. Bon Iver, made particularly evident by tracks such as Let Timber Hold. Likewise, with Tebbutt similarly hibernating for a two year stint in Sweden where the bulk of the Scandinavian influenced debut EP was crafted, the number similarities don't fall short.

Closing the set with an upbeat arrangement of Hottest 100 hit The Breach inciting an all round clap-along, the intimate gig transported fans to a winter in the woods and if this show is anything to go by, lucky ticket holders may feel something special in their bones for Tebbutt beyond the Bones Tour.


Powered by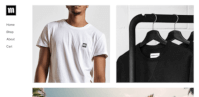 Create your own unique website with customizable templates.