Full House: Dune Rats infront of a wall of a million hands.

By Jacinta Hriskin

Australia's favourite stoners, Dune Rats, kicked off their national tour on June 1st making their way to Adelaide Saturday the 14th at Adelaide UniBar. They were supported by grunge rockers Horror My Friend who have had an amazing last few months, gaining shows with British India in April and have just been signed to Gun Fever ahead of their upcoming EP. Also on the support was Sincerely, Grizzly who is on my list of "Local bands that I would be happy to see play every weekend before they get too famous and start touring other countries". Article to follow.. one day.

Being an all ages show, Dunies were welcomed to the stage by a sea of all your favourite trends including top knots, beanies and snapbacks. I'll admit I was wearing a beanie because it was flippin' cold that night! They played a well-rehearsed set including hits 'Pogo', 'Fuck It' and 'Red Light, Green Light'. Having just toured half the world, these boys know how to play a tight set with all included facial expressions and funny conversations in-between songs. If you follow their Instagram page you would not have believed the professionalism they produced on stage. I mean these guys are the type that misses their flight because they are preoccupied with things that make them feel good. Yeah let's keep this PG. Although, the boys did not care that they were promoting the consumption of ice to their audience of mostly teenage girls.

Musically, the guys did a great job. They represent a backyard style of Australian pop rock. In a way, I felt like I was at a live R-rated Playschool show. Dune Rats have some really catchy songs that almost sound like nursery rhymes for adults. The set came across really fun and enjoyable and the crowd certainly loved it. Heaps of girls made their way up onto the stage to dance along with the scruffy boys who some how come across so cool and well I guess attractive to some. The only part that was a little lame was when they coordinated their own encore. Yep, they asked for an encore. They lose a brownie point in my books for that one because I think the crowd would have begged for an encore anyway. Despite this little act, Dune Rats played a great show and have had a very successful Australian tour. I wonder if they'll get back to recording soon or just bathe in their glory for a while.
Powered by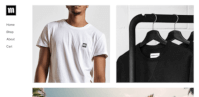 Create your own unique website with customizable templates.