Live Review by Brett Pike

Hitting the town can certainly make a dent in your savings, the taxi/bus ride in, cover fees to a couple of venues mixed in with some drinks and post-midnight falafel, it all adds up. Or you can piss that all right off, find a sweet local venue playing some free live music and an atmosphere that is second to none. Yeah, give me four bands playing their asses off any day of the week and I will be there!

Friday nights' venue was the Pirie & Co. Social Club with a handful of ace bands playing in a basement bar. Pink Noise Generator, The Cities Alight, Kitten Kong and Dexter Jones all on stage, all brilliant, what else could you want?
First up was my flavour of the month band, Pink Noise Generator. Having first seen them only a week ago at Orelia's beautiful EP launch, their audio visual pop rock is something to fall in love with. Minus the awkward set up of their Wolf & the Moon AV show shining straight into drummer Lachlan Clarke's eyes, it was a set filled with great vibes, a manic dancing Chelsea Turner up front and rounded out with a new track Merry Go Round. PNG is upbeat, relaxed and all about the best things in music, and someone I need to see more regularly.
Following Pink Noise in the night of locals, was The Cities Alight treating us to their piano ballad rock. The quartet started strongly with lead pianoman David Bowering powering into Just Like Before, the opening track to their BANG EP released last year, which sounds remarkably like a more hopeful and warming version of The Pixies Where Is My Mind?.

Having plenty of ladies getting their dancing shoes on, engaging with the crowd and enjoying what they're doing, The Cities Alight are shaping up really well for their appearance later this year at the BIGSOUND Conference plus further preps towards their debut album, to be recorded/released a short ways down the track.
Having seen Lost Woods perform exceptionally well last week at Jive, another band performing at a future Bakehouse Presents gig (keep your eyes peeled!) was Kitten Kong who for some ridiculous reason, I'd also yet to see them play. And they fucking smashed it.

Knocking out a bluesy-garage sound similar to that of an early early Black Keys, Kitten Kong played a fast paced set you could get involved in, highlighted by their ode to one of the best looking guys in Hollywood, Matthew McConaughey. To quote lead man Stephen Di Girolamo, who also is sporting a wicked 60s Beatles-esque cut, "This song has no name, no lyrics, but we do have a Patrick Healey and that's something."
Closing out the night was Dexter Jones, a band who's been about the mark on the local scene, they know their sound well and that translated through into a really tight set. It's some easy listening, cruisy Sunday afternoon summer rock and roll with your mates hanging out on the patio having a couple of drinks. They know what their doing and they do it well, having toured nationally in a few years back and also scoring a slot at Clipsal too.

Check them out for yourself, check them all out. Great nights out sometimes don't have to cost you a damn thing just like I had on Friday night at the Pirie & Co.. See you at a gig soon!
Powered by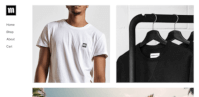 Create your own unique website with customizable templates.