Live Review by Steph Komar

Five years as a band and still jamming strong- Devils Crossroad welcomed new and devoted fans alike to embrace the release of their latest EP Gypsy Kings, supported with Adelaide favourites Attonbitus. With 70 thousand people parading through the city for The Fringe Festival, the hustle and bustle of neighbouring streets merely heightened the comfortable appeal of familiar venues, like The Crown and Anchor.
Delivering a set with complete sincerity was the tidy ensemble Attonbitus. Verbally presenting himself with the persona of a 1940's ringmaster, singer-guitarist Michael Brigante brought a unique freak-show flair by introducing the band with hysterical laughter and impressive word play at impossible speeds.

The three musos followed this charismatic trance with a perfectly tight set. Their entire performance was almost lucid, confirming that Attonbitus have nailed the art of conducting a musical journey. It's difficult to confine such a dynamic collection of songs to a few paragraphs, really. However, the tracks routinely flowed like a free fall through musical grace. As the intensity heightened, they either transformed into a plummet or a cheeky bridge like that in Cognition. The unpredictable nature of the set was what had every human in the room unnervingly captivated.
Devils Crossroad entered the night to debut their newest baby Gypsy Kings, and an obvious motivation to have a damn good time. In perfect collaboration to their infectious gusto was a small yet solid crowd of mates and newfound fans. The crowd were hungry, and with good reason too. The silky smooth Sleeping with Venus and the sexy, melting track Psychedellic Jesus provided a feeding frenzy for easy sing alongs and unified sways.

The strength of Devils Crossroad's lies in the chunky bass lines and rolling drum kick- integral for the solos that had the crowd frothing. Each song built upon the last in both hype and energy, tying into a set that was deviously crafted- probably in a means to expend a room's energy sources. In the words of Barney Stinson "People think a good mix should be rise and fall. But people are wrong. It should be all rise baby!"

A complimentary copy of Devils Crossroad's newest EP validated that a night away from the madness of The Fringe Festival opening night was excellently justified.
Powered by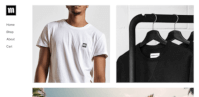 Create your own unique website with customizable templates.