Review by Nick McLean

There's something quite unique about an all-local gig. It's a feeling; familiarity. Not the awkward kind you get when you bump into someone you hooked up with that one time or the way you feel every year Christmas when your family asks where your life is going (remember that?). It's more to do with recognizable surroundings. Without making it sound like Monday night Mahjong, local gigs have somewhat of a comforting routine; you round up some homies, knock back a couple of Pale Ale's and enjoy the show.


Saturday night at The Metro was no different as Hello, Lover and Kitten Kong supported Charlie Monsoon in what was a ripping set of short, sharp and sludgy grunge/punk that even Russell Coight couldn't resist getting down to (more on that later).

Usually life's full of big decisions. You can't have your cake and eat it too. However, on Saturday I was able to make it to Dumpling King and back in time to catch all of Hello, Lover. Yeah life! I don't know if this is the dumpling's talking, but Hello, Lover are amazing. Guitarist and main chick Larissa Perry plays dreamy tones reminiscent of My Bloody Valentine over noisy and up-beat drumming that pulls your head into a steady array of appreciative nodding. Following the release of a debut EP in 2014 and a solid and intriguing live show, 2015 is looking bright for this young band.


Next up was Kitten Kong, who despite being light on band members was certainly not light on sound. Their bass-less set showed us that garage rock still lives strong and probably always will. The band blessed the crowd with such highlights as a Sabbath-esque instrumental about 'a man in a well with poison' and sent shivers down everyone's spine with their version of Shaking All Over.


Finally it was time for the night's headliner, Charlie Monsoon, to take to the band room. If bass player Frankie Hurricane's shirt is right that 'Grunge is Dead', then it's afterlife is pretty rad. The band played a fast and explosive set that included their latest sub-90 second single No Plan Now. As Monsoon's ripped through familiar riffs such as that of Caffeine and Codeine from their 2013 debut EP, the crowd found a rowdy middle ground between gentle moshing and dance moves mirroring those of the Australia Days of old at local RSL's. In the midst of this was the aforementioned Russell Coight look-a-like who could of almost stole the night if only he'd remembered to put on his khaki's.

They say the way you start the New Year is the way you will spend the rest of the year. In their first show of 2015, Charlie Monsoon melted faces with crowd-favoured riffs and an awesome Pixie's cover, showing us that the Monsoon boys should start looking for to a big year.


Powered by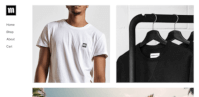 Create your own unique website with customizable templates.