Review by Lauren Varo

Russell Crowe, Crowded House, the pavlova - Broods is yet another Kiwi local worthy of adoption under the Australian name. Gracing the sold out Adelaide Unibar stage as part of their Splendour in the Grass sideshows, the brother-sister duo proved their 10 month skyrocket to fame was no mere coincidence with a stellar set of songs from their debut self-titled EP and upcoming album Evergreen set to be released mid-August.


Electronic indie newcomer East kicked off the night with a string of high energy dance tunes, asymmetrical hair flicks and a cover of The Neighbourhood's Sweater Weather. At the tender age of sweet sixteen, East's emotionally charged performance of ironically titled tune Old Age flags her as one to watch.

Fellow support act Jarryd James' rich falsetto range accompanied by soulful R&B sounds had the crowd enchanted. With a rumoured Matt Corby keyboard feature, the Queensland local's short but sweet set created a dreamy atmosphere in the lead up to the main event.

Lights dim, synths lowly humming; Broods lived up to their melancholic namesake as the crowd swayed along to the opening moody chorus of hit single Never Gonna Change. Yet for a seemingly broody band, the set was filled with infectious energy as synths, drums and a Florence Welch reminiscent falsetto soared through a series of solid electronic pop.

The commanding stage presence of lead vocalist Georgia Nott proved to be a crowd favourite throughout the evening, with sultry sways and skulking strut seducing the crowd in a heartbeat. Hands sweeping through hair along with smooth dance break moves, it was clear the girl's got swag. Setting the cool factor aside, it was Nott's display of raw honest emotion in acoustic love ballad encore that had spines tingling around the room, before closing with a crowd sing-along to latest single Mother & Father.

Brief previews from imminent Evergreen album suggests more to love from a slightly different sound to the debut EP, which was influenced by songwriter Joel Little who produced fellow New Zealand icon Lorde's hit Royals. Likewise, the stripped back cover of Empire of the Sun's We Are the People suggested several rabbits are left in the Broods hat of tricks.


Powered by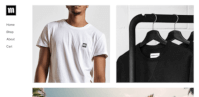 Create your own unique website with customizable templates.