Live Review by Shannon Austen

After the success of the Bakehouse's first birthday bash I was quite depressed that I might have to wait another whole year before the Bakehouse put on another gig. Low and behold I was wrong and the crew over at the Bakehouse produced yet another amazing lineup of local talent over the weekend.

Setting up shop in the Producers Bar and Old Exchange, the venue was well picked, intimate and full of character, a great place for a brew. Drawing in the crowds this time were the likes of Framework, Slick Arnold and Relying On Luck, all there to celebrate the launch of the second single from Relying On Luck's debut EP release Jawbreaker.
Framework kicked off the night with some good old punk rock tunes. The three piece band rocked the stage with a sound reminiscent of Blink 182, mixing old-school punk with post hardcore vibes Framework are an exciting band to watch on the punk rock scene.


Framework's set consisted of a mixture of original tracks and covers with their own spin. Emotive vocals from Michael Rander tied the songs together to create a well-rounded sound which captures and holds the attention of the crowd. Solid performances by Henry Armstrong and Tristan Smith made for a ripper set. They produced a wicked show and I can't wait to see what they come up with in 2015.
Second up were Slick Arnold. One of Adelaide's best alternative rock bands, these boys will blow you away and if I could recommend you see any band live this year, it would be them. The three piece band waltzed onto the stage ready to do the no pants dance and delivered one of the best live shows I've seen in a while.

With a groove similar to the likes of Red Hot Chilli Peppers and the Arctic Monkeys, Slick Arnold bring a sound that is catchy, well rounded and entirely enthralling, I couldn't keep my eyes off of them from the start of their set to the finish. The three piece have been jamming together for the past eight years and their time together shows with their larger than life presence on stage and their ability to bounce off of each other during their set.

Each of Slick Arnold's tracks was intricately woven and energetic; smooth vocals from Jack Crawford added all of the right elements to weave the songs together and the faultless contributions from Bassist Mitchell and drummer Peter gave a groovy undertone to the lively melodies. Since releasing their self recorded EP 'One' 12 months ago this three piece alt-rock band have continued to forge their place as one of Adelaide's best bands in the scene.

I can honestly say I have never been so pleased to see three men in their underwear rock it out and I look forward to catching more of their shows.
Next came the piece de resistance, Relying On Luck hit the stage to celebrate the second single release for EP 'Jawbreaker.' The three piece punk rock outfit has supported the likes of British India, Bad//Dreems and FAIM and it's no wonder with a sound a kin to grunge band Violent Soho.

Relying On Luck produce a raw and unadulterated set with cutting vocals by PJ Kay mixed with strong performances from bassist Josh Healey and drummer Peter Quinn. With EP 'Welcome to the Blast Zone' under their belt already and second EP 'Jawbreaker' soon to be released Relying on Luck are definitely ones to watch in 2015.


Peter Quinn rallied the crowd with a between song drum solo that was larger than life but Relying On Luck's laid back stage presence and PJ's persistent banter made it seem like you were watching old friends. After some encouragement from PJ the mosh pit was underway and by the time the new single 'Jawbreaker' came around the pit was well and truly rocking out.

It became clear that Relying On Luck has cemented their place as a top achiever within the punk scene in Adelaide and I can't wait to see where the rest of this year takes them.
Of course it wouldn't have been a Bakehouse gig without a shoe brew from founder Brett Pike and this time he had a whole gang of brewers to join him with members from all three bands taking part in the festivities.

All in all another sick gig put on by The Bakehouse crew, I can't wait to see the other events The Bakehouse will present this year.
Powered by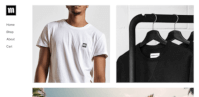 Create your own unique website with customizable templates.