Live Review by Shannon Austen

Stellar bands, cheap beer and the shoe brewing antics of our very own Brett Pike can mean only one thing; a party put on by The Bakehouse crew! In case you recently found yourself living under a rock, last Friday night was the big birthday bash celebrating the first birthday of The Bakehouse. Held at The Jade Monkey; the venue provided an intimate setting for party goers to get up close and personal with three of South Australia's best up and coming rock bands.

Young Offenders kicked off the night with a high energy set that got the crowd jumping, the heart rate pumping and the sweat dripping into your socks. The Indie/ Punk outfit rocked the stage with punchy tunes reminiscent of The Living End and Arctic Monkeys, and the crowd lapped it up. Their catchy choruses and shouted lyrics were a crowd hit with tracks like The Boys Are Out from their debut self-titled EP fast becoming crowd favourites, it's no wonder these boys were picked to open for Californian punk band The Dead Kennedys on their 2014 Australian tour. Young Offenders are quickly becoming local legends and are definitely ones to watch.

Next up were Adelaide hills based five piece band Indiago with a diverse and sometimes unpredictable set of melodic rock and energetic, spring loaded tracks. Inspired by the likes of the Foo Fighters and Seether, Indiago switched seamlessy between hard rock and gut wrenching ballads, their set coming to a peak with the track The Lost Ones. Raw vocals delivered by front man Will Soloman had the crowd mesmerised throughout the set and the emotive lyrics clearly resonated with Indiago's fan base, who sang every word of the tracks contained within last year's debut EP release as if their lives depended on it. Indiago captured the attention of every person in the room and held it for the full duration of the set, if you haven't seen these boys live put it on your bucket list, with an ever growing fan base Indiago hit all the right notes during their performance on Friday and you can expect to see big things from them in the future.

Walking With Thieves burst onto the stage to round out the night with intense tracks and a powerful vocal performance. The 2012 Campus Band Competition winners have a dedicated fan base who knew all the words and took great joy in helping to ensure the stage and dancefloor became one entity. Front man Cameron Johnson bantered with the crowd like they were old friends, even holding a dance competition for one lucky mosher to win their much-loved EP. This five piece hard rock outfit transformed the crowd into a raucous cesspit of sweat and camaraderie, and with a sound that can be compared to that of Avenged Sevenfold or Breaking Benjamin it's no wonder Walking With Thieves is so popular. It was clear the crowd did not want the explosive set to end with die hard fans trying to coax an encore out of the band after they wrapped up their set and packed it in for the night.

Over all The Bakehouse's first birthday was one to be remembered with a showcase of South Australia's best loved rock outfits in a premier venue, it's clear that The Bakehouse has earned its stripes as, not only one of the leading media outlets for local talent in our humble city of Adelaide, but also, as hosts of quality and affordable shows for the hot blooded, rock loving patrons of South Australia.


Powered by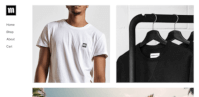 Create your own unique website with customizable templates.