Review by Kyle Opie


Slick Arnold are a young Funk Rock trio from the Barossa Valley who have been collaborating since they were wee lads. They recently came first in in the South Australian heats of the National Campus Band Competition brandishing their groove based tunes that take a leaf out of the book of other local acts such as Pimpin' Horus.

One is their second EP to date, showcasing a potent selection of twanging guitar and riffage, tight drumming, driving bass and catchy vocal melodies.
Blasting in with Sleep there's no holding back in their initial statement. Big chord punches fall into the opening verse, articulated by a bouncing bass line. The modulation from those first chords into the verse comes as a surprise and acts as a very effective method of attention grabbing. The lead vocals are not strong, but the quality song writing, musicianship and backing vocal harmonies make up for it in the long run.

The production of the mix does well to emphasise the high energy, catchy choruses and is fairly well rounded. There is almost a little bit of a surf rock touch on this tune with a thematic echo effect on the guitar and tremolo picked sections. I couldn't seem to find any context, but there is a quaint little circus theme that is heard at the completion of the tune that adds a hint of quirk.

Dinosaurs is introduced with a head bopping, crunchy guitar riff which is nicely filled out with double tracking, sending individual takes to the right and left. The form of this tune is very similar to its predecessor and is just as effective, a simple verse chorus structure with a very catchy and energetic chorus. The main difference is the addition of a guitar solo, it's a simple bluesy pentatonic based jam, but by no means amateurish and an effective addition to the song. Even though I noted the vocals are not strong, they really make this tune and make you want to sing along. The end of the song is well dynamically built up with a second, climbing chordal guitar part.
Their funky, groove based flavour, perhaps, shines through most on We Bricked. The bass is more lyrical and lick based in areas and there is an instrumental section in the middle that really brings out that flavour too.

No Guns, No Knives, No Hand Grenades features more head bopping riffage and a neat harmonic pick scratching effect that creates a great character. The vocal melody that comes in the verse of closing track Goodnight Joanne sounds to me very much like something from The Mars Volta, though it otherwise it follows the trend of their sound throughout the EP.

I liked the way they added some unexpected modulations (key changes) and a full band unison instrumental section to give it a touch of progressiveness, while still maintaining a very accessible sound.

Judging from this EP I can imagine a live Slick Arnold show would be a lot of fun and much dancing and singing along would occur, I was doing both at home anyway! Overall I don't think there's all that much that is overly musically innovative here, but it is bunch of very well calculated and performed tunes and in this style I think that, that is all they need.

They have, nonetheless avoided sounding too much like anything else, One still has it's own unique Slick Arnold voice. It's a voice that I'll definitely be paying more attention to in the future.
Powered by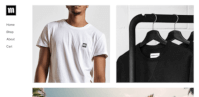 Create your own unique website with customizable templates.