Review by Stephanie Whitfield

If a sell out launch at The Producers Bar and a production to envy isn't enough to hint that this Adelaide band is one to recognise, I'll tell you myself; Tomorrow Rising is sure to be a force to be reckoned with now, and in the near future.
In December, 2014, audiences experienced a social explosion as the band had successfully presented their sophomore release, Oasis. Using powerful lyrics, incomparable guitar riffs and an unforgettable performance of social commentary, Adelaide experienced something no one saw coming; an unimaginable burst of excitement, an atmosphere of utter compulsion and the beginning of the immense journey that has become Tomorrow Rising.

In their EP, Oasis, the band took their song producing to an entirely new level. They've utilized distorted guitars, bass, impeccable drumming and the vocals of roaring front-man to create something to remember. The track offers an original atmospheric feeling of a real alternative-rock band, with a production that has a faultless balance of the bands contributions.

It's hard to believe that this ground-breaking band has been influenced by those who have influenced all of us; Blink 182, Rise Against and Nirvana. If one thing is clear, it's that they've known what the greatest songs have been all along and I have no doubt that one day, if not already, they will join the list of those who have inspired.
Powered by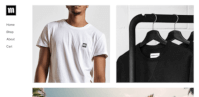 Create your own unique website with customizable templates.