EP Review by Kyle Opie

Jordan Slattery is a local acoustic artist in his early 20's and August 2014 saw the release of his first album, Dilated. His limited on­line media discreetly indicates influences from the likes of contemporary folk artists Bon Iver and Matt Corby, however, Dilated represents a very unique and personal journey both in its lyrical and musical landscapes that stretches the boundaries of an 'acoustic' album.

The opening track Glassy Eyes meanders its way in, creating a mysterious setting of muffled spoken word and sparse percussion. The burgeoning mood is emphasised by the introduction of Slattery's poetic vocals which are drenched in reverb and echo effects. This makes for a wet timbrel quality that fits comfortably over droning synth. A more familiar musical environment soon emerges, in a seamless contrast.

The ensuing strummed acoustic guitar, ringing piano and light, lead electric guitar that create this environment punctuate a very high production quality. The electric guitar soon falls into a counter melody next to the continuation of Slattery's vocals which paint a very gloomy and emotive picture of the thoughts of a tortured individual. Additions of high pitched backing vocals and sustaining lead guitar throughout the song build tension and add intensity to its emotive qualities.

The production style, typical of producer Hugh Atkinson, gives this tune a sound akin to a Linkin Park like, epic movie soundtrack. Alongside elements of hip-hop, introduced by the driving percussion, it emerges as a folk song in a new shell.
The following song, This Distance, is much closer to a typical folk­pop sound with a focus on guitar and vocals. Lyrically this is the case too, as Slattery tries his a hand at writing about love. His distinctly Australian singing style shining through as comparable to any other world class pop singer. Never Enough continues this trend as a similar song, with guitar body taps and harmonics, it is perhaps even more suited to sit under the folk banner. It's rhythmic and melodic qualities are, perhaps, the most infectious of the album and its sustained electric guitar parts give it a post rock flavour.

The next track has a cameo vocal appearance from a similar local acoustic performer, Rico Garilli. It's called Set Fire and is effective as a chillout style of track, but in some respects it drags on a bit and the effects on the closing repeat, while artistic and perhaps with metaphorical meaning, are quite harsh on the ear. The Way it Goes (ft Lucrowe) combines the general style Slattery has established with rapping and hip hop style electronic percussion. Album closer, Closure takes things back to the simple folk nature of acoustic guitar and vocals with small touches of percussion and other instruments to add aesthetic interest along the way. It's an ideal end to the album, leaving the listener on a thoughtful note.
The overall mood that is created by the instrumentation of Dilated does very well to serve and reiterate the tales of its lyrical content. It's spacious and flowing, but full bodied. Throughout I found influences from hip­hop and metal within the overarching folk style. Among all the praise I must admit on a personal level this album didn't do all that much for me, in some respects I found it a bit trite and overly serious, though this could just be another cue for Slattery's potential popularity.

This is a very high quality first release and speaks volumes for Slattery's prospective future.
Powered by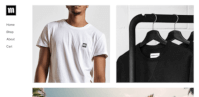 Create your own unique website with customizable templates.