Review by Brett Pike

Straight down your throat hole, elbow deep. Fucks aren't necessary and certainly will not be given. Cram It In Ya is the debut EP collection by trio The Violet Crams near three years in the making. Born and raised in our homely state but have since subsisted on a diet of Seattle's finest garage/punk, temperamental rock bands, Alice In Chains and Mudhoney to name a few.
Cram It In Ya marks a significant step in the lifeline of the band, something that live music junkies such as myself crave night and day, a physical release! Something we can blast in our Toyota Corolla stereos as we roll up the unfortunate buggers how we will trash this weekend.

Lead vocalist Chris's wailing, screaming vocals, and splitting guitar work hauls you back to the era where festivals were headlined by real musicians and rock bands ruled the earth. Tracks Go Away and Big Eyes encompass what The Violet Crams are all about. Raw, imperfect, unabashed rock and roll played loud all covered in sweat, blood and beer.

While not completely blowing me off my feet with their debut, The Violet Crams debut Cram It In Ya is a very accurate reflection of the bands musical tastes and everything they are about. You wanted a rock band? The Violet Crams are the answer.


Powered by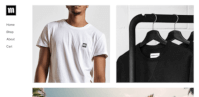 Create your own unique website with customizable templates.