Review by Brett Pike

Heavy layering of synthetic beats and body pumping bass lines, Caribbean Gold is the debut extended length release by good vibes enthusiast Jarrad Lee Jackson under the moniker WORLD WILD. Drawing across a vast range of influences, think 80s super rock outfit Duran Duran meets MGMT and M83 at city skate with instrumental over laps done in the frame of Devonte Hynes, Blood Orange.

Everything about Caribbean Gold leaves the listener feeling euphoric and if not happier, at least more settled and positive on life. It's exactly what we all need right now.
Having spoken earlier this year with Jarrad around the workings on this release, he's describe
WORLD WILD
to be more than an extension of self, but that rather an evolution and emergence of himself through music. You'll understand what I mean if you get the chance to meet the man, humble, uplifting and incredibly hard working.
Bursting out of the blocks with heavy funk track
Poolside
, the EP is a splendid combination of body bouncing, easy listening party tracks to more reformed and down tempo songs like the fourth track
Jungle Kids
and back again to the retro inspired synth pop songs with
Physical
.
Overall,
Caribbean Gold
exudes intelligent construction and provides a warm environment for the audience. For anyone facing any kind of roadblocks or feelings of doubt in their lives, get on to this EP. The world will seem a whole lot less daunting and more peaceful post-listen.
Another local artist carving their own path, with their own sound and direction,
WORLD WILD
is an artist to keep track of for we expect somewhere in the next 18 months, Jarrad to take off and take flight, leading the way.
Keep up to date with all
WORLD WILD
news
here
and don't forget to check out his webstore and pick up a copy of
Caribbean Gold
while you're there.
Powered by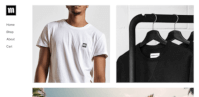 Create your own unique website with customizable templates.