EP Review by Alastair Farr

When the soundwaves of Mike Tilbrook's debut EP 'Blue Solace' reached the deep chasms of my ear canals for the very first time, a strong level of excitement stirred with in me like an energetic sloth that sights an oversized pomegranate. It was because I realised there is a new movement in the midst of Adelaide, one that Tilbrook is leading, that is: the revival of Acid Jazz.
Tilbrook released 'Blue Solace' late last year, and with elements of soul, funk and jazz, he takes you on a journey that centres on a constant mild groove. His opening track '
Machine Moon'
is a fantastic tune much to his credit. The very first thing you're introduced to is the bass line of the track which offers one catchy syncopated groove, and also acts as the anchor of the tune of which all instruments take their cue from.
There is a sense of R&B at first, but as the call and response between the guitar, keys and vocals settles in you realise you've been handed something different.
Tilbrook classifies himself as Neo-Soul as can be read on his
Facebook
and
Soundcloud
pages, and with reference to his laid back chilled grooves that make your head nod from side to side, I totally agree. But, I think the influences of other musicians on the EP have pushed him into a realm that is Neo-Soul with an additive of something jazzier. Neo-Soul on mild classy drugs you could say…..
Third track of the EP '
Submarine Of Love'
is a great example of this, where the written horn lines are full of so much chromatic goodness that I could picture
D'Angelo
and
Miles Davis
sitting together and drinking tea to it. At the same time you have tracks on this EP such as '
I Want that Sensation'
which provides a more upbeat platform hinting at influences of jazz-junk, and the actual track '
Blue Solace'
which is intriguingly haunting and beautiful.
Tilbrook's lyrical content is also tantalisingly metaphorically explicit. In an interview with
BSide magazine
he revealed a passion for beat poetry and the link there is quite obvious, so much so that I think
Allen Ginsburg
and
Neal Cassidy
would be proud. I am also proud, as the song writing of
Mike Tilbrook
reflects the diverseness of the Adelaide scene and I'm now motivated to see how this EP translates live. A must listen for those into things with a groove.
Powered by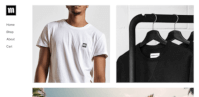 Create your own unique website with customizable templates.