Review by Brett Pike

Seconds are always hard acts to follow. Remember how good Jurassic Park was and then being crushed when The Lost World was released? Just like being the second child in a family, you've got some ground to make up. You gotta take your time, do things your own way, get it right, just like Thursdays Friend have done with their sophomore EP, Better Than Nothing.
Grunge exploded in the 90s with the emergence of Mudhoney, Silverchair (Frogstomp fuck yeah) and of course, Nirvana, but has since retreated underground to dank pubs and bars across the world. Thursdays Friend play the genre in its pure, raw form full of howling vocals and crushing waves of guitars.

Lyrics, song titles, attitude, generally speaking Thursdays Friend aren't gonna hide behind smoke and mirrors or send mixed messages. The blunt first up lyrics to opening track Hey, Man "Hey you, I'm feeling real fucked up" or the subtle titled third track Romeo+Fuckhead.

Personally, the Better Than Nothing EP cruises along through the first four tracks until we reach the penultimate track Nuke the Dragon where all the jigsaw pieces come together. The chords are deeper, the atmosphere is darker and I feel a little bit like starting a fire (in a good way).
You can catch
Thursday's Friend
playing this coming
Friday night
at
The Backpackers
in Glenelg with
The Violet Crams
for their EP laucnh. Free entry and free CDs for everyone who makes it along, next weekend is set to be a jam packed one for the local scene.
Powered by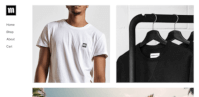 Create your own unique website with customizable templates.