Review by Brett Pike

The last time I heard of a band packing out its debut shows, was the now signed I Oh You's infamous Manchester-esque band DMA's. Having taken 2014 aside to work on, refine and gel together as a band, The Chase dropped their debut EP release right in time for a host of shows which included a national supporting slot with Forever Ends Here and Move On, Be Strong. Now having firmly etched themselves in the local scene, the future is burning bright.
Before We Met, the debut 5-track EP from The Chase, doesn't sound like a band trying to find its feet. It's hard to believe that a relatively inexperienced live band, has delivered a well rounded product, and that stands as a testament to what the band is capable of as the grow and mature as musicians.

Lyrically, the title of third track Hopes & Fears could have easily taken title to the EP, with vocalist Bec Moore pouring herself into each song, personifying each track with her substantial delivery.

Pop-punk, particularly in Adelaide, is hard to break into. There are too many bands hanging around, some sounding like Blink-182, others trying to channel The Story So Far or Paramore without really forming their own identity. Sure, it's great to be able to hear the influence of those you aspire to in your own music, but forging your own path is more important and a balance The Chase have found.

Moving through the EP, from tracks that escalate in pace and ultimately crashing around the listener, to others that begin with high-octane riffs and alternatively coupled with a softly sung acoustic track, displaying their range.

With more news right around the corner, The Chase aren't a band to keep an eye out for, they could well be a band you're gonna ditch that night at the pub for to stand in the crowd, in awe, knowing just as well what is in store for them.
Powered by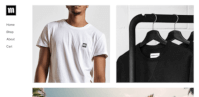 Create your own unique website with customizable templates.