Picture: Horror My Friend hiding in a cupboard from eggplant, Tom Gordon's (left) kryptonite ..... via Horror My Friend Facebook
EP Review by Brett Pike

Unless you've been living in Narnia for the past few years, there's no doubt you're well aware of indie-slash-grunge-slash-punk-slash-anything rock doods Horror My Friend. Following their debut EP, twenty elevens' Shivers & Spines, the boys pulled back the reigns heading towards quality sounds over a follow up record. The string of singles saw songs Lifeblood and Birds thrust the band into national spotlight, securing numerous support slots for British India (at home and interstate) as well as The Cribs and Violent Soho in one whirlwind of a week. A little over two years in the making, their second EP A Million Hands has certainly been worth the wait.
A Million Hands
can be likened to
The Killers
debut
Hot Fuss
. Not in the way that this is the pinnacle of their musical journey but rather each song adding its own significance and power to the record.
If you're like me, sweated and pushing your way through the local venues at various
HMF
gigs, many of the tracks on
A Million Hands
will have a familiar feel, reminiscent of empty wallets and being covered in Sailor Jerry & Dry. Kicking things off with
No Energy,
the boys bring slacker rock full circle and setting a brilliant stage for the rest of the EP.
Lead single
Nothing
, coupled with
Be Good
showcase the strength and grit that
HMF
fans have come to expect from the band, bombarding listeners with screaming vocals and walls of sound we love to throw ourselves around to.
Never ones to shy away and experiment with sound, current single
Kaleidoscope
displays their ability to smooth down the rough edges of their style as
Josh Battersby
takes over singing duties from regular lead
Tom Gordon
. Further track
Colourblind
takes the down tempo one step further in broadening the range of the band and delving deeper into their songwriting prowess.
Finishing with seven minute epic and title track,
A Million Hands
owes much credit to
Sincerely, Grizzly's
Kafkaesque
as inspiration for its production. Again diverging from short, punchy, edgy songs yet once again hitting the mark,
Horror My Friend
have taken the time to write a record that oozes maturity.
A massive amount of work has been injected into this EP, much of which comes through on every single track. From days/weeks/months spent recording at Hillside Studios with renowned local legend Matt Hills, to the wizard-like mixing talent of Richard Bowers (Magic Bones) to produce an audible delicacy,
A Million Hands
is worth all the spilled beers, ripped shirts and bruised and bloodied bodies it has consumed along the way.
Next week, Friday 8th August at the Crown & Anchor,
Horror My Friend
will be hosting the
A Million Hands
launch party. Sweetening the deal, every attendee at the launch show will receive a free copy of the EP to go with their ticket. Tickets available
here via oztix.
Powered by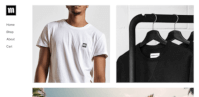 Create your own unique website with customizable templates.