Review by Stephanie Whitfield

If one thing is more exciting than a band with the potentially indestructible ability to begin a new form of revolution in the Metal scene, it's the name that's going to be unleashing rock-infused talents to audiences across Australia in the near future.

Day Three, Dusk, involving the incomparable, kick-ass vocals of Brad Camilleri and the ever-envied guitar god, Tyler Lunnon, has kicked off the year with the release of their new track, Tyrant; a debut single from the highly anticipated upcoming EP, Guardians- which will leave you craving for so much more.
What separates this uniquely memorable band from the rest is their commitment to making some of the best music you will ever hear. From Perth to Adelaide, audio files and early flights, the two-piece have created their music together in far distance- and it is only getting better from here.
Day Three, Dusk
are taking you into a state where grasping onto the deepest parts of your mind will create a hold over even the strongest of thoughts; and we can't get enough of it.
The undeniably talented metal heads are building a momentum that will shake the world of alternative music to the core before the release of
Guardians
. In the mean time, the two-piece are working alongside the endlessly talented
Sam Trott
, who has mastered the art of audio and video to take
Day Three, Dusk
to an entirely new level.
Nonetheless, the throat-tearing anticipations don't end yet; with an exclusive sneak-peak to their next single that sends spine-tingling sparks through the veins, I can reassure you that
Day Three, Dusk
is going to take you to the point of being both exhausted of energy and savagely hungry for more.
You can find them on
YouTube
,
Facebook
or even contact them personally; whatever option- you don't want to miss this.
Powered by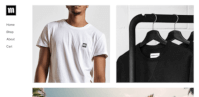 Create your own unique website with customizable templates.