By Ian Hooper

Watch as a strong gust created by the sighs of the Adelaide music scene destroys our neighbouring cities and everyone you love. You can forward the compensation claims to Sincerely, Grizzly. The much-anticipated debut album 'Halves' has broken free, and I can promise it will disappoint none of you.

The genre of literature rock. They made it themselves and it is definitely paying off. The album pays tribute to both high and low culture, with references from Russian literature to comic books and cartoons all being evident in this album. From sprawling references, a sound that includes Indie, Punk, Alt, Post Rock, Post Hardcore, and Math are sure to filter out the fan from the chump.

Essentially, what Grizzly have done is impressive. Without breaching too far into the heavy scene of Adelaide they have garnered large amounts of attention and respect. On countless occasions, local bands - such as Horror My Friend, The Rocketeers, and Animal Shadows - mention the three-piece as one of their favourite Adelaide acts, with the most common reason (from what I can decipher) being their ability to craft something that is bigger than just a bunch of people playing instruments on a stage. Without any doubts I can support this with my own experiences having ridden the Grizzly rollercoster since those heady days of '09-'10. What they have developed as a live show definitely shows the lads have the ability to not only be musicians but performers.

This album comes as the result of the trio's growing confidence. From softer beginnings that wore influences of Death Cab For Cutie, Mars Volta, and awkward 90s guitars, they have evolved into a post-hardcore powerhouse that is impossible to deny. Josh Calligeros (vocals/guitar) invested in a search for heavier tones through alternate dropped tunings and humbuckers, but apart from merely purchasable items he also has built a healthy and harrowing scream. Trace back to earlier releases like 21 (which briefly became 23 at live shows) and their Doom and Gloom EP and you can hear just how much strength has been gained in his voice. Griffin Farley (bass/vocals) adds strong contributions with an increased vocal presence while Rowan Mount expresses a drumming talent that places him in a category all of his own. What is clear is what these lads are creating together is working, and what they are making is coming so much more from what is within them rather than external influences.

All of those who regularly attend a Grizzly show will know the collection of songs that will be released, but what everyone will enjoy is the ability to really engage with the lyrics to what is a regular drum-smashing screamfest. With the release of their second single, Kafkaesque, the offering was immense. A 9-minute ode to lost love and a lyrically-technical poetic delivery that is difficult to distinguish amongst the live mix. As a listener, this only allows for a stronger connection and an increased appreciation of what is typically a signature Grizzly closing track.

And although sonically they have matured - and darkened - many of their themes and concepts have remained intact. As a listener, what you know from Grizzly you will get, and whether or not their sound evolves the emotional resolve remains. The concept of human duality still bleeds through from their first EP and many early fans will note the revision of Two-Face - a Griz classic from none other than Matt Hills (the beating heart behind the creative hub that is Hillside Studios).

What should also impress the listener is the dual format release of digital/vinyl. Despite the title, 'Halves' is very much composed to listen to in a single sitting and should be enjoyed as such. Yes, these are all songs that exist perfectly on their own, and yes there are singles that have been selected for release, and yes the other tracks are good (personal picks: Catholic Guilt, Hull vs Hulk, Nightwatchman), but do yourself a favour and put the time aside.

Not only that, the production quality is off the charts. Case and point: Future History. Grinding feedback lashes overtop of an explosive and rhythmic end. Although Future History is also the title of a Jason DeRulo song, the nature of Grizzly's ode to speculative fiction is more measured and emotionally urgent. The hours and time put into the actual raw material required for this to come together is incredible. With beautiful subtly and brazen coarseness, you are punished throughout the album and the result is nothing short of visceral. As a whole, nothing sounds understated, restricted, or repressed. And if I can think of an analogy/life situation, it is kind of like getting exactly what you'd hoped for, but because you are used to being disappointed, it actually becomes better than you could have ever dreamed...How did that make it past editing?

The opening track, 'A Pickle For The Knowing Ones; or Plain Truths In A Homespun Dress' features layered readings and incomprehensible spoken word. The title is shared with a text that explores the surprising entrepreneurial success of a buffoon and an opening page of punctuation sets a pretty tongue-in-cheek tone from the band. It isn't only a mock on their position as creators, but an invitation to the listener to individually interpret their works. The conceptual introduction mirrors and again contrasts with the final layered delaying guitars on the end of Kafkaesque.

Although titled 'Halves', I hear the album in thirds. The first ending after Catholic Guilt, the second at Hull v Hulk, and the last two songs within their own realm. The first section peaks with its chapter like structure. Most of these tracks seem to foreshadow each other and sound like they come from the same time, space, and artistic expression. The second includes songs of more internal conflict with all titles discussing some sort of choice or competition. What is different is not just the recognition of these human dichotomies. These songs highlight the struggles with the ultimatums and competing forces within. This final third provides sonic contrast of a well-played instrumental with Kafkaesque's vocal delivery reminiscient of mewithoutYou.

These guys give what very few can fathom: diversity AND consistency. Apart from my complete overuse of the idea of 'contrasting' themes and sounds, the cogency that exists within this album exhibit true artistic merit and conceptual precision. I've also written too many words, deleted too many paragraphs, and sent myself crazy trying to put this thing under the microscope, so if this all hasn't convinced you then I don't know what else to say. I cannot do this album justice so go forth and expose yourself to one of Adelaide's greats. Join their cult. I'm sure they would be benevolent dictators.

Review: 11/8

They are Sincerely, Grizzly. This is Adelaide.
Powered by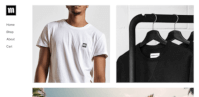 Create your own unique website with customizable templates.