By Taysharna Berger

Crazy drunken adventures are just what bored South Australians strive for. We want to make bad life decisions, listen to amazing music and absorb life.

Do we want to do all this in our own town?

Fuck yes!

Does the opportunity for a free show, with artists like Jungle Giants, Illy, Violent Soho, Dan Sultan and Rufus come up often?

No.

So we pack our bags, get our booze and haul arse to Mildura, where Triple J throw us a "completely sober" One Night Stand I will never forget.

After an incident with eating all our fruit at the border of the Riverland, a stop off at Monash Playground and popping various squats like the classy adventurer I am, we were finally able to crack open our bottle of gin and enjoy our lives as they were. Sleeping in the tray of a ute, hearing the sound of triple J on all the radios that surrounded our camp site, we were well and truly exactly where we should have been as irresponsible youths.

In the morning, the site was filled with hungover twenty-somethings wearing animal onesies playing their acoustic guitars. People on skateboards, adults jumping on a giant trampoline, the whole place was fucking buzzing with the excitement.

Now, this gig was a drug and alcohol free event and there were families who were there for the music....but who were they kidding, some of these guys were even too legless to leave the caravan park. So, just as drunk as everyone else, we made some new friends and decided to hitch a ride to the gig with a lovely local by the name of Rhonda (yes, Katut was mentioned).

With Jungle giants 'Shes a riot' playing we were finally there, dancing all our way through the crowd like a couple of hippies at Woodstock. We met another group of Adelaide peeps, and after a while of talking to strangers and plugging "The Bakehouse' we realised, there were a shitload of South Australians making the trip just like us! And I kind had this thought, if we can travel all this way for just a few hours of music, then we need to support our own by going to local gigs and supporting the amazing music that Adelaide produces!

I know this is supposed to be a gig review and of course the music was truly beyond words, Violent Soho were so fucking rad I'm pretty sure they are the reason I lost my voice the next day. But the entire atmosphere is what will stay with me. A guy playing a saxophone on another guys shoulders, men in Native American headdresses, kids tearing up the mosh with their parents and heaps more random shit that I was too drunk to remember the next day, im pretty sure I even got into a dance off.

So with confetti in my hair from Illy's performance, my body was well and truly battered from letting loose. I was ready to pass out in our makeshift bed in the ute tray and wait for the post adventure depression to kick in.

Point of this review? Turn off your TVs, plan an adventure and actually get off your ass and support your local music and do the shit you will tell your kids about..
Powered by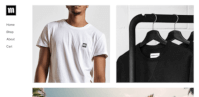 Create your own unique website with customizable templates.