Jarrad Lee Jackson, former drummer of hard punks Dangerous!, has taken his talents to seaside with the new moniker World Wild. Drawing inspirations from the likes of 80s disco, surf/east coast laid back rock, Coast To Coast takes you into the backseat of Jackson's Cadillac with the sun roof down and cruising past the palm trees.
Synth lines emanating out of the track, wavy echoing vocals just give the listener the feel of mid-summer Sunday trips down to Aldinga beach with the car, setting up in front of those sand dunes and killing it at life.

World Wide will be taking to Rocket Bar, one of the more signature and renowned venues in our fair city, Friday January 9th to celebrate the release of Coast To Coast earlier this month through I Heard They Eat Cigarettes Records. Perfect to kick away that new years hangover and keep the good vibes rolling!
Powered by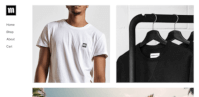 Create your own unique website with customizable templates.