Editorial by Brett Pike
Sydney has their
Sounds of the Suburbs
festival, Brisbane has their
Blurst of Times
festival, Melbourne started off with
St Kilda Festival
which steam rolled into the massive event that it is today. But what about Adelaide? With 2014's edition of
Hillside Fest
possibly being the last, it leaves a pretty significant hole in the calendar which is noticeably lacking an all local affair. Where there's a vacancy, there's opportunity and
Vision Festival
looks set to take over the void.
Curated by
Cobra's
Jonty Czuchwicki,
Vision Festival
will play host to many of the best artists our city has to offer. Artists well known to any muso who hasn't been living under a rock the past twelve months who are already making serious waves across the local scene.
We spoke with Jonty about his thoughts behind setting up
Vision Festival
, noting in particular the possibility for the event to become an annual showcase, giving punters a smorgasbord great artists they can feast on.
It's an experiment. It's a test to see whether I could pull it off. To be honest I never thought of bringing in interstaters. There's a unique vibe in Adelaide that I'm proud of. I also figured it was a no brainer, and there's definitely a gap in the market for something like this to go well. I didn't want to deal with the logistics and ego involved with bands from interstate. I'll save that for next year.
It takes only a brief look at the lineup to suggest that this years inaugural event will hit it off. There's
Sparkspitter
who scored opening slots on both
Groovin' The Moo
and
Laneway
lineups and launched their debut LP
Techne
to considerable fan fair.
Mirador Records
boys
Battlehounds
who keep going from strength to strength following their string of single releases since bursting onto the scene little over two years ago. A shit tonne of locals who all in their own right could headline the night.
They're my favourite bands in Adelaide. When you're booking a festival there isn't really any point in booking bands you don't like. As far as my experience goes reviewing scores of Australian and International bands every week I'm confident I've got a good filter for what's good and what's not. Every band on the line up offers a live experience that other bands don't. It was about making the strongest festival line up possible.
Aside from all the ridiculous talent available already on the bill, the final spot on the day will be heading off to one lucky ass high school band (unfortunately this rules out Horror My Friend *cries*) selected as part of a competition run in cooperation with Music SA. For whomever this band / artist may be, this could well thrust them into the local spotlight and into much greater things.


Already looking to the future and past this years prospects, Jonty has high hopes for where he'd like to see some of the bands reach and for future Vision Festival lineups including a possible two day split venue affair, and also offers some guidance on a political scale too

Probably just a libertarian government where our borders are opened to asylum seekers and our mining obsession is traded for a green energy scheme similar to Denmark… oh wait you were talking about the live music scene?


Although it would be cool if Vision Festival resulted in that I would love to see some of these bands hit the American and European festival circuits. Seeing Glass Skies and West Theb at Glasto or Bonnaroo would be beautiful!


As for Vision Festival I'll be looking at bringing some interstaters down next time, along with considering a two day festival. Worlds End has recently opened their upstairs band room so it would be legendary to have individualised line ups for both days, the Friday being at Worlds End with two stages and a limited capacity, meaning all ticket holders can get in but there would be a pass out system once the venue hits capacity.


That way all the keen beans will get double their dose before the main event hits on Saturday. Exclusivity is the way to go, rewarding the people who will arrive on Friday from the get go, it teaches the lazy bums a lesson.

Vision Festival
will be taking over Jive on Saturday September 26th with doors opening at midday and going on strong into the night. On top, it will also be an ALL AGES affair to so bring your kids, that cool younger sister your mate Alex has who you've always wanted to ask out, bring everyone essentially.
Check out all the bands and more information on the official
Vision Festival webpage
, and don't forget to grab yourself a ticket from
Moshtix
before they all run out.
Powered by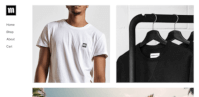 Create your own unique website with customizable templates.