I lied.
They have two things for you!
On the back of two stellar EP releases ('Emergency Christmas' and 'Posthumous Name Change'), The Sunbirds have been quietly KILLING IT in the genre of 90s slacker rock. Superb songwriting, solid musicality, and the perfect blend of wholesomeness and awkwardness made not only their music but their banter a treasure.
These two new tracks will definitely give you some lovely warmth and add some goodness to your soul.
But when an Adelaide band mentions that a member is leaving overseas for a little while there is usually cause for a few sweaty palms and awkward smiles from fans.
And last year, the Sunbirds did just this. When Jake Haysman (bass) left for North America a few of us were afraid. Lead vocalist/guitarist, Jamie Seyfang, positively remarks that, 'J
ake is currently back for my wedding. But then he's gone again for who knows how long! he's loving life in Canada.'
But feat not! These two tracks (which some ol' faithful bakehousers might recall from an interview with Jamie last year) have finally surfaced and they are absolutely beautiful, if not to provide clear indication of their personal lives developing and impending adulthood (as well as a song about Seaweed, I guess).
In regards to 2015, Jamie mentions that,
'T
his could be a quieter/different year for the band...I'm planning on lots of low-key jams, writing, recording, relaxing, experimenting, so will keep you in the loop...
I'm still undecided on whether we'll keep pursuing fill-in players, but we may in order to put some gigs together. But a looser lineup arrangement will probably work well for me as I get married and want to spend more time at home.'
As much as I want to yell at the sky who can blame the man?! Not I, good people, not I.
Powered by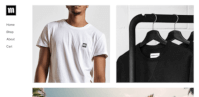 Create your own unique website with customizable templates.