This Saturday,
The Profiteers
are coming! Showcasing their new video for last years crushing single
Burn It Down
. The first track of the similarly named EP, the guys will be taking the show to Mad Mouse Alley for the launch and with that, bringing along friends
Stranger Things Have Happened
,
Stabbitha & the Knifey Wifeys
and
yoko Polo
who will be playing their debut show.


Though releasing the EP,
Burn It Down
, late last year, this had no effect at all in slowing down the band. The day after the release, the EP jumped straight to Numero Uno on
Three D Radio's 20+1
as well as finishing #97 in
Three D's Top 100+1 for 2014
despite the December release date.
Drawing their influence from pure punk roots, not giving a fuck and wielding their own brand of punk/metal and rock. The Profiteers have been honing their performance in across Adelaide's dankest, dirtiest and arguably best off the beaten track venues. Performing at The Bluebee Room, The Squatters Arms, and The Hotel Metro week in week out has refined their sound as they work towards a debut LP release later this year.
For details about the video launch this Saturday, you can check out their
Facebook event
and their EP Burn It Down is available for free download via their
bandcamp
.
Powered by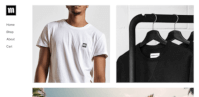 Create your own unique website with customizable templates.