New shit coming Adelaide every week. This scene is growing at an exponential rate and it is so hard to keep up with every dropping bangers so here's a select few tracks we have been froffing over this past few weeks to keep you on top of your game!
Sleepwalker by Raygun
With a change of pace from our regular spotlights, electronic bass hitting duo Raygun have given us a look in at their latest single Sleepwalker. A mash up between dark pop synths tunes and an electro hip-hop sound, Sleepwalker is a tantalizing flavour that will set well on any pallet.
I'm Not Coming Back by Young Offenders
​With a new lineup, comes new tracks starting with this most recent single. With their anti-wannabe lyrics, a clear cut to all the famewhores to quietly fuck off, the boys are soundly at home cutting their teeth in Adelaide's pubs knee deep in sweating bodies and beer soaked tees. If you aren't already a fan, now would be a good time before the boys hit the road on an extensive tour later this year.
He Drags Me Under
by
SIAMESE
​Coming out of the shoegaze-psych local label
Swirl Records
,
SIAMESE
are one of the rising stars of the scene. We get that the track was released some time last year but its undeniable brilliance still has its hooks dug firmly beneath our skins. Their breezy vocals and contrasting riffs is too much to pass up, so make sure to remember the name because this year I think we might be seeing big things from them.
Mara by Filthy Lucre
Holy shit those damn tasty blues riffs. So much Royal Blood vibes coming through on this one with a kickback to a time when rock bands roamed the world. Mara is the first single off of Filthy Lucre's similarly titled debut album, and it is most certainly one to sink your teeth into.
​Tip Toe (ft. Doe Paoro & Alexander Burnett) by L.K.McKay
​If you're like many of us and froff hard over Tkay Maidza's rise to global domination, but always wondered who the dude behind the decks was? Presenting Luke McKay, formerly Elk and currently L.K.McKay. With flavour and bounce, McKay's debut track Tip Toe brings back memories of Falls 2014 and every single James Boag tinny imaginable.
Powered by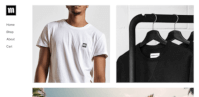 Create your own unique website with customizable templates.